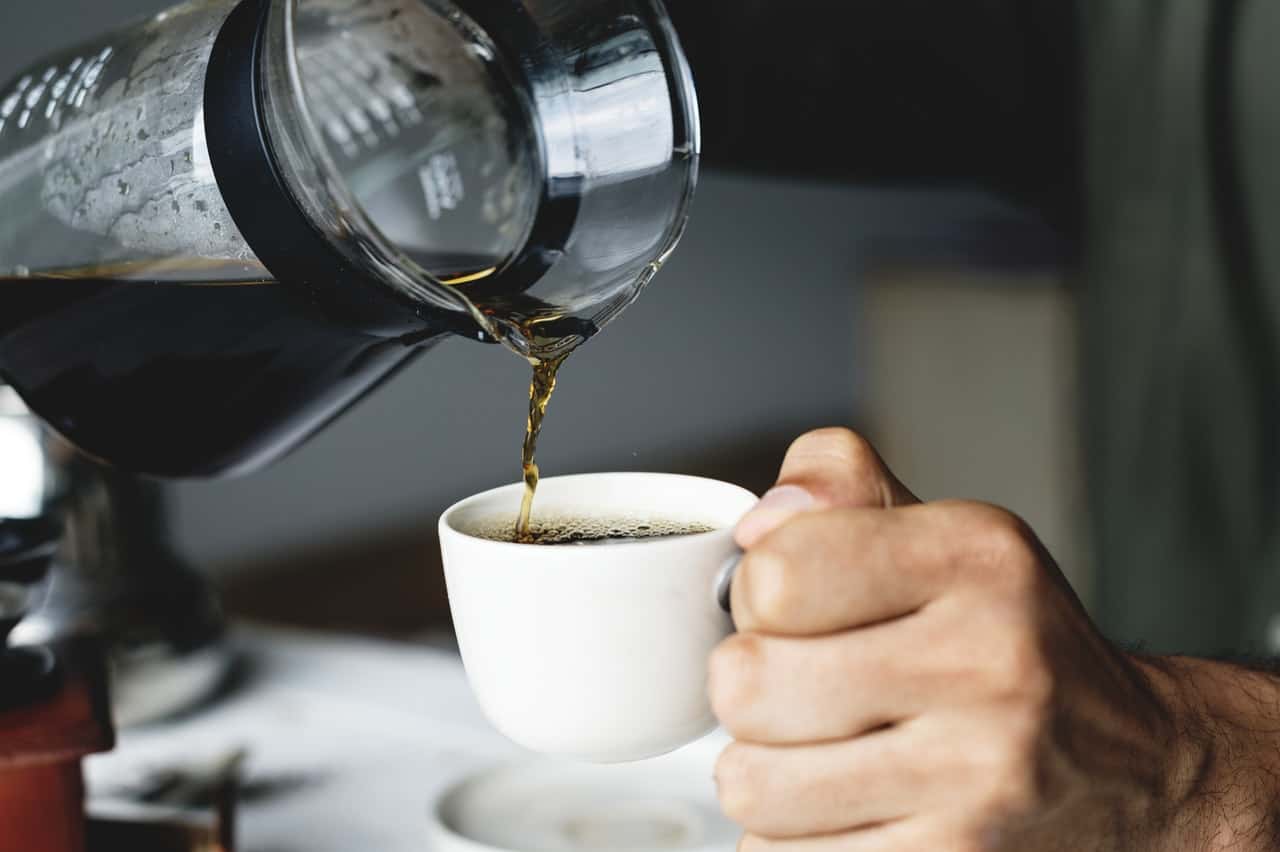 SterlingPro French Press Coffee Maker (1L)-Double Walled Large Coffee Press with 2 Free Filters-Enjoy Granule-Free Coffee Guaranteed, Stylish Rust Free Kitchen Accessory-Stainless Steel French Press
Black & Decker SDC850 SpaceMaker 8-Cup Coffeemaker with Thermal Carafe
Cuisinart Coffee Maker, 14-Cup Glass Carafe, Fully Automatic for Brew Strength Control & 1-4 Cup Setting, Stainless Steel, DCC-3200P1
Keurig K-Classic Coffee Maker K-Cup Pod, Single Serve, Programmable, 6 to 10 oz. Brew Sizes, Black
Nespresso Vertuo Coffee and Espresso Machine by Breville, 5 Cups, Chrome

SterlingPro French Press Coffee Maker (1L)-Double Walled Large Coffee Press with 2 Free Filters-Enjoy Granule-Free Coffee Guaranteed, Stylish Rust Free Kitchen Accessory-Stainless Steel French Press

Black & Decker SDC850 SpaceMaker 8-Cup Coffeemaker with Thermal Carafe

Cuisinart Coffee Maker, 14-Cup Glass Carafe, Fully Automatic for Brew Strength Control & 1-4 Cup Setting, Stainless Steel, DCC-3200P1

Keurig K-Classic Coffee Maker K-Cup Pod, Single Serve, Programmable, 6 to 10 oz. Brew Sizes, Black
Best RV Coffee Makers Reviewed
Reviewed by Amazon as the "Best Overall" French Press, this coffee maker is ideal for your RV or home. What makes it one of the best coffee makers out there is the unique two-screen system which minimizes the number of coffee granules that make it into your cup.
Its stainless steel interior means tea and coffee remain hot for longer, without heating the outer materials. This means it's safer to use around children and pets as there is less risk of scalding. It also keeps it rust-free and dishwasher safe.
Without any plastic, you can rest assured that this product is BPA free and the general appearance of the coffee maker is sleek and polished. To top it off, this press is multi-functional and can be used for not only a cup of coffee but any other hot drink. 
This easy-to-use electric coffee maker, with its on/off button system, is ideal for a quick brew. Instead of the usual single-serve coffee makers, this electric one serves eight cups at a time!
This coffee maker allows maximum efficiency, so you can make the most of your days.
The removable water reservoir and filter basket mean it is easily cleaned. Moreover, the small exterior allows you to maintain a larger amount of counter space; ideal for a small RV.
 To top it off, the control panel's blue backlighting adds a funky addition to your RV kitchen for night-time use and a little digital clock adds to the functionality. You can also set the timer to start brewing, ready for your morning cup of joe when you get up.
Any coffee lover will know that, sometimes, a hotter brew lacks flavor quality and the coffee can be bitter. But in this RV appliance, the built-in technology keeps the coffee hot without sacrificing the quality.
This cheaper product also has settings which allow you to change the strength of your brew. A great option to have if you and your partner have different tastes when it comes to how strong coffee should be.
Providing 1-4 cups of coffee per brew, there will be plenty to share. You can minimize your time spent in the kitchen too because of this product self-cleans! Fantastic for a busy family who wants to get out and about more.
The Keurig K-Cup is said to be the best single-serve coffee maker on the market. It would be ideal for anyone who is traveling alone, or a couple. The box includes four K-Cup pods, and the machine has two water filters, so you have the best-tasting coffee.
A number of brew pod sizes are available for purchase, ranging from 6-8 ounces, which makes it very versatile. Moreover, the large 48-ounce water reservoir means you can brew six hot drinks before having to refill it.
This water reservoir is removable, making it easier to clean, but you must remember the importance of descaling these machines. Calcium deposits can build up over time, leading to a compromised flavor. In this case, refer to the manufacturer's instructions on how to descale.
The product is rather small, which means your countertop will not be too cluttered. Finally, energy-saving mechanisms, which automatically turn off the machine after two idle hours, help save money.
This is another single-serve coffee maker which is easy to use and very versatile. Imagine any coffee you can think of: cappuccino, latte, espresso, mocha. This coffee machine can do it all at just the touch of a button. 
For each coffee pod, you insert, the machine reads the barcode and releases the right amount of milk for that coffee. 
To top it all off, this machine even has settings for iced coffees. This will provide a refreshing treat for any warmer days on the campsite. With settings for five different serving sizes, there is something for every coffee lover. 
Featuring a 40-ounce, removable water reservoir, it is easily cleaned and provides up to six coffees per refill. Plus, if you fancy a travel mug coffee before dashing out, the 15-second heat up time makes it easy to achieve.
Finally, the energy-saving settings shut off the machine after nine minutes of inactivity.
FAQ's for Buying an RV Coffee Maker
Types of Coffee Makers
Deciding on your ideal coffee maker can be tough, especially with so many options out there. Electrical, or non-electrical, the choice is yours. Below, we've set out some of the different types of coffee makers you can choose from.
Pour-Over Types
These are the very typical filter coffee machines. By placing a cone-shaped filter above a jug, and adding granules to it, you need to simply add hot water. Then, the filter will do all the work and will drip out delicious coffee straight into the jug below.
Percolators
These are very old-school and were surpassed by automatic drip coffee makers in the 1970s. They produce very high temperatures, circulating the coffee through the mechanism multiple times to achieve the desired strength.
Drip
These consist of large machines with a jug underneath. You can set them to start dripping the water slowly early on in the morning to intensify the flavor. Then, your coffee pot is ready for you when you wake up.  
Under the Cabinet
Space is at a premium for those living the RV life, so under-the-counter coffee makers are typically small and well-suited to a camper kitchen.
Single-Cup / K Cups
 These machines use little coffee pods to make one cup at a time. Simply place a pod in the machine, press a button and let the machine do all the work. The milk is built into this type of machine, making for a great cup of coffee without the hassle.
Buying Considerations
Price
 Most great coffee machines do come with a price tag to match. But if you're a coffee lover, you'll know that you get what you pay for.
Moka pots and French press coffee makers are cheaper, and they do not need any electricity, except for a kettle to boil the water on your RV stove. You won't be sipping on a latte while taking in the camp views, though.
Go for the best machine you can afford, based on which kind of coffee you'd like to have.
Power
Remember that RV sites have specific outlets to plug into. If you're camping off the grid, you might not have any power. Stick with the classic French press if that's the case. Otherwise, most coffee machines need a power source, although there are some that run on 12v battery power.
Space
If you know your kitchen counter space is minimal, an under-the-counter coffee maker is ideal. That said, most coffee machines take up just a small amount of worktop space, so it all depends on your vehicle. Just make sure you bear this in mind before buying any of the more expensive machines, then finding they don't fit inside your RV. 
Maintenance
 The last thing you'll want to do after a morning coffee is spent time cleaning the coffee maker. You're on vacation, the great outdoors is waiting! Some coffee machines are self-cleaning, others may have hard-to-reach parts that need more effort to keep clean. Descaling may also be necessary.
Maintenance Tips
A wipe down with a damp cloth after every use and a quick rinse of removable parts will keep your coffee machine in good condition and preserve that great coffee taste. If your machine isn't self-cleaning, a thorough clean every few days—and at the end of your vacation—should be carried out.
Most coffee machines with an inner mechanism will need descaling, some more regularly than others. By simply reading the manufacturer's instructions, you'll glean everything you need to know for your specific model.
You must also keep in mind that water conservation is necessary for RV sites. A machine that requires cleaning or flushing through under a running tap, is probably not the best option for your RV.