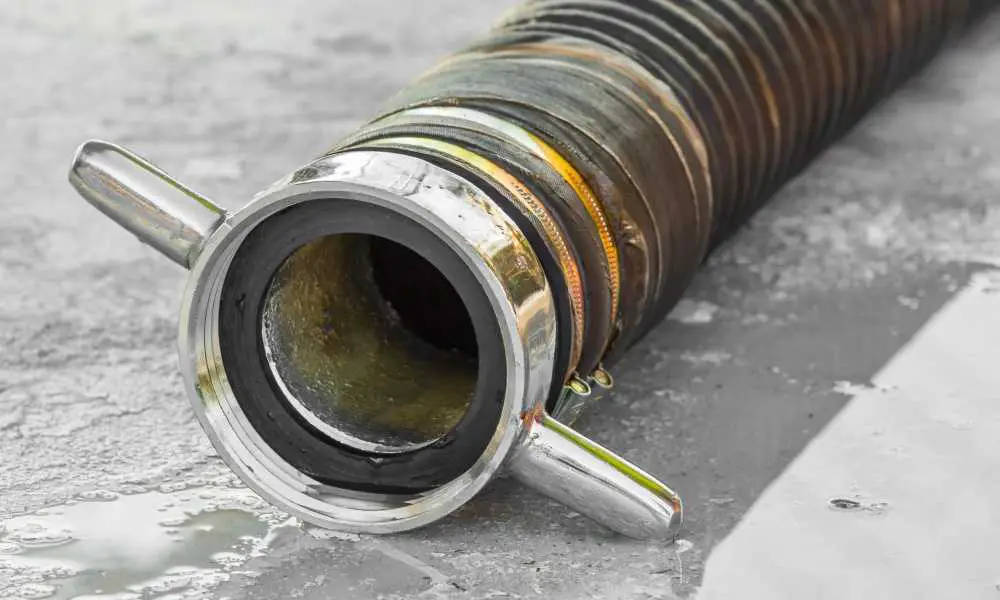 When purchasing an RV, unless you're going all out with buying a high-end brand, there's a good chance that your RV won't come equipped with the best parts. This means that your RV likely has been installed with a cheap sewer hose.
Why is it so important that you have a quality sewer hose? This is because the sewer hose connects from the waste tanks all the way to your kitchen and bathroom.
If you have a flimsy sewer hose, you'll likely find a mess by the time you go to empty and clean out the waste tank. And let's face it, it's going to be a disgusting and time-consuming task to clean out all the waste that accumulates through those pipes. So, to avoid this mess, it's better to invest in a high-quality sewer hose and install it as soon as possible.
Top 5 RV Sewer Hoses Comparison Chart





Lippert 359724 Waste Master 20' Extended RV Sewer Hose Management System , Green
Camco 20' (39742) RhinoFLEX 20-Foot RV Sewer Hose Kit, Swivel Transparent Elbow with 4-in-1 Dump Station Fitting-Storage Caps Included , Brown
Titan 20 Foot Premium RV Sewer Hose Kit - Thetford 17902
Camco RhinoFLEX Heavy Duty 10ft RV Sewer Hose Extension Kit with Swivel Fitting - Extends Your Sewer Hose to Fit Your Needs (39764) , Black
Barker 4-Wheeler Tote Tank - 42 Gallon Capacity (30844)
Best RV Sewer Hose Product Reviews
1. Best Overall - Lippert 359724 Waste Master
Waste management is one of the most overlooked aspects of the RV lifestyle, and you don't want to own a subpar sewer hose. That will aggravate you and your waste system. A cheaply made or thin wire-bound vinyl hose just isn't going to cut it when it comes to keeping your whole system running.
This hose is designed with a tough exterior which helps keep a barrier between the outside and inside environments. There are no leaks, and it contains a multi-seal which can help keep everything secure.
Summary
This hose comes with a time-tested CAM lock which can help ensure that your hose remains leakproof when connected to the outlet. It is designed with a helical coil on the outside, and the inside is designed with a smoother material which can help prevent waste from getting trapped in the sewer hose.
The UV-protected hose measures around 5 ft 6 inches and can stretch up to 20 feet. It has a permanently connected noddle which comes with an easy-grip handle and a shutoff valve to help the user see when the waste has emptied out of the hose. Lastly, the hose comes in a 90-degree angle elbow that can help secure the hose to the sewage inlet.

Lippert 359724 Waste Master 20' Extended RV Sewer Hose Management System , Green
Comes complete with a time-tested CAM lock connector that ensures a leak-proof connection to the sewer outlet
Hose is designed with its helical coil on the outside, while the inside is much smoother, preventing waste from getting trapped inside the hose
UV-protected hose is 5'6" feet compressed and 20 feet extended and features technology that keeps it extended during use to the exact length required
Permanently-connected nozzle is molded with an easy-grip handle, an integrated shut-off valve and a clear view port that allows the user to see when waste has completely evacuated
Nozzle also features a 90 degree discharge port that is easy to fit and secure into any sewage inlet
2. Best Budget - Camco RhinoFLEX Hose Kit
This sewer hose kit is designed to be ready to use and made to be durable and long-lasting. The two hoses are crafted from polyresin and are then reinforced with steel. They can collapse and make it easy to both store and extend. This kit also features bayonet fittings which include four prongs to help secure it. It comes with a 4-in-1 adapter which can connect 3/3.5/4 inch slips and sewer connections.
The whole kit is designed to make using a sewer hose easier, thus reducing the amount of research and brain work that you would normally have to do when buying a sewer hose. It includes all accessories you may need and comes conveniently packed.
Summary
The sewer hose includes two 10-inch RhinoFLEX sewer hoses which come pre-attached with bayonet and lug fittings. It has a translucent elbow which comes with a 4-in-1 adapter and four different storage caps. The swivel is tightly fitted and easy to be attached or detached.
The hose is made of 23 mils of polyolefin and is then enhanced with a steel wire. Each 10 foot section can compress into 39 inches with fittings to help you store it when needed. The whole hose can stretch up to 20 feet and comes in frustration-free packaging.
Sale

Camco 20' (39742) RhinoFLEX 20-Foot RV Sewer Hose Kit, Swivel Transparent Elbow with 4-in-1 Dump Station Fitting-Storage Caps Included , Brown
Kit includes: Two 10 Foot Rhino FLEX sewer hoses with pre attached bayonet and lug fittings, transparent elbow with 4 in 1 adapter and four storage caps
Fits a variety of dump station pipes: The transparent elbow connects to the 4 in 1 adapter, which fits 3 inch slips or 3 inch, 3 1/2 inch and 4 inch threaded dump station pipes
Swivel fittings: For ease of connection
Easy to store: Each 10 foot section compresses to 39 inches with fittings for storage and the removable 4 in 1 adapter allows you to store the hose in 4 inch square bumpers
Durable construction: Rhino FLEX sewer Hose is made of 23 mils of durable polyolefin and reinforced with steel wire; Includes permanent, no leak fittings
3. Best Heavy Duty - Titan Thetford 17902
The new version of the Thetford Titan is exactly what RV drivers need to help make holding tanks more pleasant. It's designed from high-quality materials and features what every RV owner needs to benefit from increased sanitation.
The proprietary TPE properties can help provide a high degree of puncture and abrasion resistance. The Titan excels in extreme temperatures; thus, you won't have to worry if you live in a hot climate. The Titan is one of the toughest and longest lasting sewers hoses on the market, and is of great value.
Summary
This sewer hose can stretch up to 20 feet and is designed from high-quality materials. It is designed to be easy to mount onto your RV waste outlet and has an extended grip with a universal bayonet mount. The kit comes with two 10-foot TPE hoses, which can be connected to each other.
The TPE hose helps prevent leaks and is resistant to being crushed. Even if you accidentally run it over with your RV, the hose will still spring back to life. It is made with puncture and temperature resistance, and an abrasion-resisting exterior. It has a 5-in-1 sewer adapter with a handle, and an easy connect dump station.

Titan 20 Foot Premium RV Sewer Hose Kit - Thetford 17902
[VERSATILITY]: Easy to mount on RV waste outlet with the Extended Grip universal bayonet mount
[DESIGN]: Two rugged 10-Foot TPE hoses, easy to connect to RV outlet and to each other
[DURABILITY]: TPE hose prevents leaks and is uncrushable - bounces back in shape even after being run over by a car
[FUNCTIONALITY]: Puncture, abrasion, and extreme temperature resistance
[INNOVATIVE]: Revolve 5-in-1 sewer adapter with exclusive handle, easy to connect to dump station and to maneuver
4. Best Extension - Camco RhinoFLEX 39764
This sewer hose kit comes with a 10-foot hose with a swivel fitting which is ready to use. The kit is designed with the toughest hose you can buy. The hose is crafted from polyolefin and is then reinforced with steel wire to help make it ultra durable. For your benefit, the hose is collapsible, and can also extend, making it easy for you when you need to use or store it.
Summary
This 10-inch sewer hose is compact and can be easily stored away. It comes with a 4-prong bayonet mount which has a fitted gasket to ensure that there is a tight connection when you use it. The durable hose is then reinforced with steel wire to help make sure that there are no leaks, even after an extended period.
The detachable fittings can be reused with other hoses, as they are universal. When you purchase this kit, you will get the detachable bayonet fitting, lug-style fitting, polyolefin hose, and locking rings.
Sale

5. Best Portable - Barker 30844 Tote
Unlike other units, this is designed to be a tow-on-the-ground tank which is designed from quality materials. It can hold up to 42 gallons of waste, and it is portable to help you remove waste away from your RV.
If you've ever been in a situation where you have the waste of your RV leak all over you, you will know the pain of having to clean up that mess. It's not fun. Thus, this tank is designed to be wheeled away and cleaned away from your RV. Making it more sanitary and keeping your property free of waste and fecal matter.
Summary
This tank is designed with a tow-on-the-ground design. It has four wheelers which allow you to move it when needed. It has 3-inch valves which help eliminate the lifting of dump tanks. It's constructed of molded polyethylene and has a cinch-plated steel and aluminum tank. The double wheels includes both front and back swivels.
Sale

Barker 4-Wheeler Tote Tank - 42 Gallon Capacity (30844)
Constructed from blow-molded polyethylene, zinc-plated steel and aluminum
Front-mounted double wheel-swivel engineered for easy maneuvering and mounted on a heavy-duty, extra large mounting plate
Designed to be a quiet and smooth rolling tote tank
Equipped with a quality, 3-inch conventional waste valve for ease of use and dependable performance
No longer do you have to lift up your tote tank to empty it, simply open the 3" waste valve
RV Sewer Hose Buyers Guide
Benefits of having an RV Sewer Hose
RV sewer hoses may not seem like they play an important role when it comes to traveling in an RV, however, that fact is untrue. The reality is that RV sewer hoses play a crucial role in keeping your RV both clean and hygienic. Imagine this; you're stuck on the road for a few days without access to empty your waste tank.

You finally get to a rest point and decide to clean it out. Little to your surprise, you open the tank only to see that the hose has sprung a leak and left residue all over the RV from your kitchen and your bathroom.
Not only is it going to take you hours to clean up the mess, but it's going to take even more time and money to install a new hose. Why go through all the hassle when you can install a working hose in the first place?
Things to Consider Before Buying a Sewer Hose
There are a few different factors you're going to want to consider before purchasing a new RV sewer hose. They are thickness, storage, tank size, cost, and length.
Thickness
How long do you plan to be out on the road? If you happen to be taking a few days' trip with many chances to clean out your tank, you can get away with having a thinner sewer hose.
However,  If you're planning a longer trip than just a few days, you're going to need to plan ahead by getting an extra thick RV sewer hose that doesn't have the risk of leaking. This is because the more buildup and pressure that accumulates in the hose, the more likely you will spring a leak. Thus, having an extra-thick hose can help hold it while you're moving from place to place.
Storage
Do you have enough room in your RV to store your sewer hose? Many RV's have a place where you can store your sewer hose, but some do not.
The standard sizes of the storage units are usually 4x4, thus, not giving you a lot of space to store a longer and thicker hose. This setup requires a hose which has a detachable end and must fit at 90 degrees. If they are too much larger, they won't end up fitting.
Tank Size
You may need to consider your tank size before you purchase a sewer hose because not every RV is going to have the same diameter measurement when it comes to sewer hoses. Luckily, many RV's come with a standard sized outlet tank. But, if you're running an older model or a more expensive unit, you may be dealing with a tank outlet which needs a specific size of hose.
Cost
Before you go out and buy a sewer hose, you're going to need to come up with a budget. You may be tempted to go for a cheaper product; however, this isn't something you're going to want to skimp on. The price of the sewer hose is going to be relevant to how durable it is.
Think about it, do you want to spend less money only to have to spend more time and effort cleaning up a leaking hose? Or would you rather just invest in a good hose that won't leave you with a mess to clean up? Chances are you're with the latter of the two options. A durable RV sewer hose will usually run between either $40-150 depending on length and features.
Length
Make sure that you know how long your RV is before you get a sewer hose. The longer your RV, the longer your hose should be. Think about where you are going as well. If you are traveling to rest stops, there might be shorter spaces which you will need to use the sewer hose.
If you're traveling to dumps or campsites, you may need a longer hose. There are all factors you're going to need to think about. If you're unsure what to get, you can always invest in an extendable sewer hose.
How Long Should a Sewer Hose Be?
Have you ever been in the situation where you arrive at your destination only to find out that the RV sewer hose you have wasn't long enough to connect to the drain outlet? If you're new to using an RV or haven't had the need to get a longer hose, then this situation most likely will or already has happened to you. To help you solve this issue, we recommend purchasing a sewer extension hose to use while you're traveling.

Many RVs have offset outlets inside your sewer compartment which makes it hard to connect to RV drain outlets. To help with this, there are 2 ft extension hoses, which can help solve this issue. The extension hoses have built-in rotating fittings which make it easier to connect to tighter compartments.

To make sure that you're well prepared, you're going to need to have additional length sewer hoses on hand. There are sewer hoses that are around 10 ft and can help add more length to your sewer hose. You can connect these two hoses by using bayonet fittings.

We would personally recommend a 20 ft drain hose with an additional 10 ft sewer hose to keep on hand. This will ensure that any situation you arrive in, you will have enough hose to connect to a drain system.
RV Sewer Hose Accessories To Consider?
There are a few different items that you may need to consider when purchasing your sewer hose. These accessories can help make the whole process much nicer, plus they can also help you when you're in need of extending the hose.
Latex Gloves
Chances are you're going to need to clean the hose, and you probably don't want to use your bare hands. Latex gloves come in many different sizes and styles. Preferably you should buy a thick latex glove. These can help protect your hands from bacteria, mold, and fecal matter.
RV Sewer Hose Supports
These can come in handy when you are parked for a few days in either a designated spot or a campground. RV sewer supports work by keeping the flow of materials so that everything runs smoothly. ​
If you don't have an RV sewer hose support, you may risk the chances of the hose getting clogged. It's always good to have a few backups. The sewer hose support can also keep your hose away from the ground and prevent damages from wildlife or the surrounding environment.
Clear Connector
A clear connector can help attach the hose to another unit. You'd be surprised how long it can take for a tank to empty itself. You need to run your tank until the water is clear. We recommend getting an adapter with a hose. If you can't find that, then an attachment can come in handy.
Flushing Hose
A flushing hose is a normal hose that you can keep on hand to help flush out your tank. These come in handy if your hose breaks or if you have any other trouble.  
You never know when you need extra length with hosing, and the best way is to keep some extra with you at all times. You don't want to find yourself in a position where you don't have extra hosing when you're emptying your tank.
Macerators
If you don't have access to dump stations, you may need to dump your waste into either a sewer or a toilet. If this occurs, a macerator can help crush everything so that it won't clog the pipes. It's a useful tool, especially if you find that you have a lot of buildup in your hose and pipes.
Tips For Maintaining A Sewer Hose
Listed below are a few tips that you can keep in mind when you're using your sewer hose.
Get a heavy-duty RV sewer hose
They aren't expensive, and you can usually find a heavy-duty model for a decent price.
Spare
Always make sure that you carry a spare sewer hose. This way, if you're ever in the position where you need an extra hose, you have one. This can be useful when your hose is too short, or if your hose finally decides to give out.
Shifting Sewer Hose
Do not drag or pull the hose; this can cause the hose to get damaged. The last thing you want to do is damage your hose and end up decreasing its durability and lifespan.
Sewer Hose Support
Sometimes you may need support for your sewer hose. This can help you get a good angle from the RV to the sewer connection. This ensures that all of the waste exits the tank. You will know once the water runs clear.
Conclusion
As you can see, investing in a good RV sewer hose can help make the process of cleaning out your sewer tank so much easier.  You never want to be stuck in a situation where you have to deal with a leaking tank and hose and have to clean up all the waste and fecal matter which sits and rots in your tank.
Instead, make life a lot easier and purchase a high-quality sewer hose for your RV. They aren't that expensive, and you can find kits that come with all the accessories you will need. Remember, you always want a backup hose, just in case your hose isn't long enough or if it develops a hole and begins to leak.