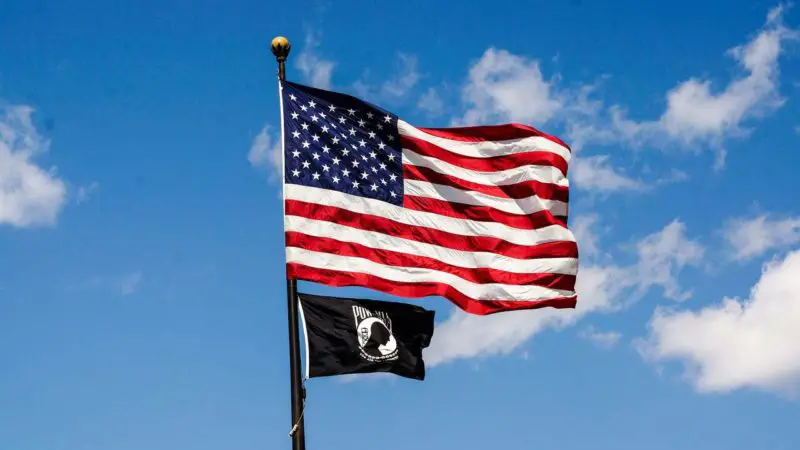 Best Ladder Mount Flagpole




Camco 20' Portable Telescoping Aluminum Flagpole with Tire-Anchored Flag Holder and US Flag (51600)
Flagpole-To-Go Portable Flagpole, 17' 2"
FlagPole Buddy RV Flag Pole Kit 22 Feet
MICTUNING Upgraded Version Hitch Mount Flagpole Holder with Anti-Wobble Screws Universal for 2 inches Receiver

Camco 20' Portable Telescoping Aluminum Flagpole with Tire-Anchored Flag Holder and US Flag (51600)

Flagpole-To-Go Portable Flagpole, 17' 2"

MICTUNING Upgraded Version Hitch Mount Flagpole Holder with Anti-Wobble Screws Universal for 2 inches Receiver
Best RV Flag Poles Reviewed
A flag pole on your RV is a small but mighty statement. Be this a patriotic flag or a flag in support of something important to you and your family. RV flagpoles are a fun and cheap way to cheer up your rig.
They are also a handy feature when pitching up in crowded spaces so that you can always find your way back to your home away from home. There is something nostalgic and charming about a flag blowing in the wind as you make your way across the country and state. 
There are many ways you can attach a flag to your camper- depending on its design and size. Below we have compiled a list of the best products on the market, to help you spend less time trawling the internet and more time planning your next adventure.
The Camco 20' flagpole pole is easy to erect. At the push of a button, the telescopic system extends and collapses. A great choice for anyone who brings their RV in and out of storage. 
With a weight of 20.5 pounds and a diameter of 66.5 x 10.6 x 3.7 inches, this flag pole is on the larger side. Hardware is included to allow you to fly two flags, opening up options for countless flag combinations. 
Customers have reported that this pole set up is a simple project that doesn't include permanent fixtures. However, this flag pole doesn't transfer well onto other vehicles; you will not be able to open your tailgate if you attempt to attach the pole over your back tire instead. 
The Flagpole-To-Go comes in 5 lengths. Featuring a straightforward twist and pull method to extend and lock. Collapsing to 4' allows for easy storage and transit.
This pole can hold multiple flags on adjustable clips and withstand 35MPH winds. At 1.2 pounds, this pole is exceptionally light yet durable. This telescopic pole does not include amount for your vehicle and must be bought separately. 
Customers suggest using a ladder mount and collapsing the pole to a shorter length when in transit to ensure the Aluminum doesn't become bent or snap.
The FlagPole buddy made from fiberglass includes all the hardware needed for a ladder mounted installation and sores 22 feet high. It can be shorter, but customers have advised that your flag will then have to be cable tie attached. 
This flag pole kit separates into two 4 foot, twist and lock pieces for easy assembly and storage. You can then clip the pole onto the ladder mount when you have arrived at your destination. It can withstand the weight of two 4 x 6 flags and is an ideal choice for regular RV'ers.
The MICTUNING hitch mounted flag pole holder is a perfect solution for a sturdy semi-permanent fixture to your vehicles. The mount is easily installed onto the hitch receiver, ready for your flagpole to be securely fastened for driving. 
Customers have suggested thickening you pole if its smaller than 1.6" to ensure a snug and wobble-free fit. It is heavy duty and durable, while not looking out of place on the modern-day truck. 
The easy-to-knob plum screws (with spares) ensure the safety of your flag as well as other vehicles, even at highway speeds. The pole is not included in the package.
FAQs for Buying the Best RV Flag Pole
What price am I expected to pay?
There are many flag poles and mounts available to buy for every budget. A cheaper model runs the risk of poor quality fixtures and fittings that may need replacing quicker than a more expensive product.
How easy is it to set up?
You should take into consideration if a semi-permanent fixture or a detachable pole is right for you and your traveling style. Telescopic poles allow for quick extension, manageable by a single person; whereas others may need a few more hands. 
What about material and durability?
To ensure the longevity of your flag pole and mount we suggest, a fiberglass pole. Fiberglass is more resilient to weather conditions, high winds and rain won't corrode them over time. However, Aluminum has a more appealing appearance that fits the look of an RV.
Are there concerns about height limits?
Some pitches have height limits that you may need to consider before turning up with a 22-foot pole. The best option for this situation is a height-adjustable pole that allows you to extend it to the restriction limits. 
Conclusion
When choosing the best flag pole, take into consideration the type of vehicle you have, where you will be pitching, and weather conditions you'll be facing. Take a little time to inspect your vehicle. Decide where your flag will mount best for optimal security and safety when driving and towing. As well as choosing a pole appropriate for the size of your flag/s. 
Some of the pole kits come with included add-ons that you may find beneficial such as; flagpole lights, U.S flags, Nascar flags, and storage bags. A few of the poles selected can also be used on alternative vehicles too. So if you want to upgrade your hauler or make a statement on your trailer hitch, we suggest you choose from this list also.