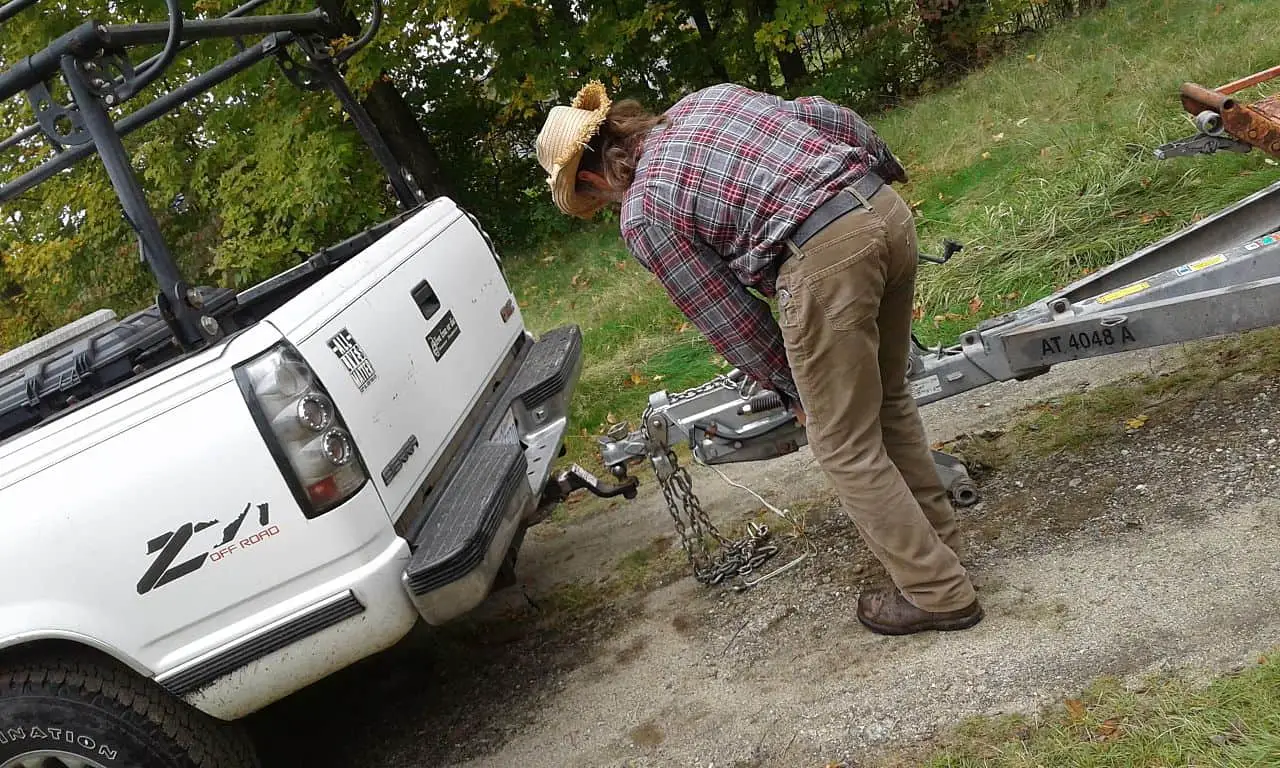 Best All-Around Hitch Lock
Best Heavy-Duty Hitch Lock




Master Lock Trailer Hitch Lock, Fits 1-7/8 in., 2 in., and Most 2-5/16 in. Trailer Couplers, Weather Resistant Automotive Hitch Lock with Keys, 377KA
REESE Towpower 72783 Coupler Lock, Adjustable Storage Security, Heavy-Duty Steel, Yellow and Chrome
Master Lock - Universal Size Fits 1-7/8", 2", and 2-5/16" Couplers - Trailer Locks #389DAT
Trimax UMAX100 Premium Universal Dual Purpose Coupler Lock , Black
Best All-Around Hitch Lock

Master Lock Trailer Hitch Lock, Fits 1-7/8 in., 2 in., and Most 2-5/16 in. Trailer Couplers, Weather Resistant Automotive Hitch Lock with Keys, 377KA

REESE Towpower 72783 Coupler Lock, Adjustable Storage Security, Heavy-Duty Steel, Yellow and Chrome

Master Lock - Universal Size Fits 1-7/8", 2", and 2-5/16" Couplers - Trailer Locks #389DAT
This is a great option for securing your RV or trailer when it's unhitched. It's a two-part lock featuring a patented mechanism that helps keep your lock user-friendly and, importantly, your belongings safe. This lock fits over the coupler and can be adjusted to suit a variety of different couplers that have a 2-5/16-inch trailer hitch ball.
These coupler locks are made from high-quality, durable materials, including stainless steel and cast iron. This hitch lock will resist rusting and is suitable for use in all climates and weather conditions. A cylindrical-style lock helps make this piece difficult to pick or tamper with. It's molded to provide a great fit for your vehicle and trailer and to help deter potential thieves.
For added security, this coupler lock offers a swivel design that prevents tire traction from happening when the lock is secured. The lock is thick and heavy, weighing in at 12 pounds, and makes cutting through the unit difficult. A rotating face also prevents easy drilling access. Installation is easy and each customer receives a unique key code.
This hitch lock is a ratchet-style design and is made to fit a wide variety of coupler types. It has an aluminum frame and a durable steel bar that serves as the locking mechanism. This bar is intentionally made to be difficult to tamper with or to cut through.
This unit has 11 different locking positions. It can be used on 1-7/8 inch, 2-inch, or 2- 5/16-inch couplers. Its yellow color is vibrant and highly visible. It helps to deter thieves and can keep you feeling confident that everything is as it should be, with just a glance. This weatherproof yellow coating also serves to protect your coupler lock from the elements.
The Towpower coupler lock is easy to set up and use. It resists tampering and picking as well as prying and the possibility of being drilled loose. With this lock set, you will receive a set of keys.
This universal lock fits most 1-7/8-inch, 2-inch, and 2-5/16-inch trailer couplers. The vibrant red color is a deterrent to thieves, while the coating helps preserve the integrity of the unit. This piece is forged from stainless steel and is resistant to both corrosion and rust.
Installation is straightforward and easy. However, while the locking system is designed to prevent picking and tampering, there is a drawback here. These keys are not uniquely cut and it's possible other Master Lock keys could be used to unlock the mechanism.
The unique shape serves to make cutting and drilling difficult. The side-facing key entrance helps prevent the lock mechanism from weather damage. Top-situated key entries can sometimes become internally compromised, making them difficult to unlock. The side positioning of the lock also makes it easy to reach and see what you're doing when it comes time for you to unlock the unit.
The Trimax Umax lock offers a dual ratchet locking system. Its unique design offers protection for your trailer from every direction. This lock is made of steel and covered with a nylon housing, to provide additional protection to the finish and the mechanism. This piece is both durable and functional.
A covered keyhole helps protect the internal mechanism and keeps your lock functioning as it should. The lock uses a type-A key, which is a spring-loaded, high-security key with seven pins.
This lock weighs in at a whopping six pounds. The rugged and sturdy keys won't bend or break with use. The lock's structure helps prevent drill outs and lock tampering, and a chain or cable can be used with this lock for additional security. These trailer locks cannot be keyed alike. This may be a factor for you if you have multiple locks and want to carry fewer keys.
Buying Considerations & FAQ's
Do I Need a Trailer Hitch Lock?
If you're going to park your trailer for an extended period of time you'll probably want to go ahead and purchase a hitch lock. Though it may seem like a hassle to take it on and off, it will help protect your valuable motorhome and keep it from being stolen.
How Do I Know What Size Trailer Hitch Lock I Need?
When you're looking at trailer hitch locks, there are a few things you'll want to keep in mind. Your hitch lock will need to be an appropriate size for your hitch receiver and accessories.
The class and style of your towing hitch may impact the lock selection available to you. Make sure you know the specs of your hitch before you make a purchase.
How Do I Know What Size My Trailer Hitch Is?
If you aren't sure how big your trailer hitch is, you can determine the size with a few simple measurements. Measure both the height and width of your trailer hitch's opening. Most hitches will fall between 1.25 inches by 1.25 inches or 2 inches by 2 inches.
What Are the Different Kinds of Trailer Locks?
There are a few different styles of locks you can consider when making your purchase. Common options include coupler locks and safety pins. The coupler lock is generally u-shaped. fits over the coupler and securely attaches your RV to your towing vehicle.
Hitch pins are often used for trailer locks as well. If you're shopping for pins, just make sure your pin is able to be used with the amount of weight you're hauling. If you're not sure, double check the manufacturer's specs and the weight of your towable.
For additional security, you can even look into wheel locks that prevent your wheels from moving. There are plenty of towing accessories available, which you can use to maximize your security.
How Do I Know What Kind of Trailer Lock I Should Get?
What lock you decide to go with will depend on how you need your lock to work. Are you looking for a lock that you can use while your trailer is attached to your towing vehicle? Or are you looking for protection for your vehicle in between uses?
If your equipment is attached, opt for a pin-lock system. This pin will slide through the designated hole and firmly attach your vehicle to what you're towing. A key is necessary for removal. If you're planning on leaving your RV alone and unhitched for an extended period of time, a trailer coupler lock or receiver lock will work well for you.