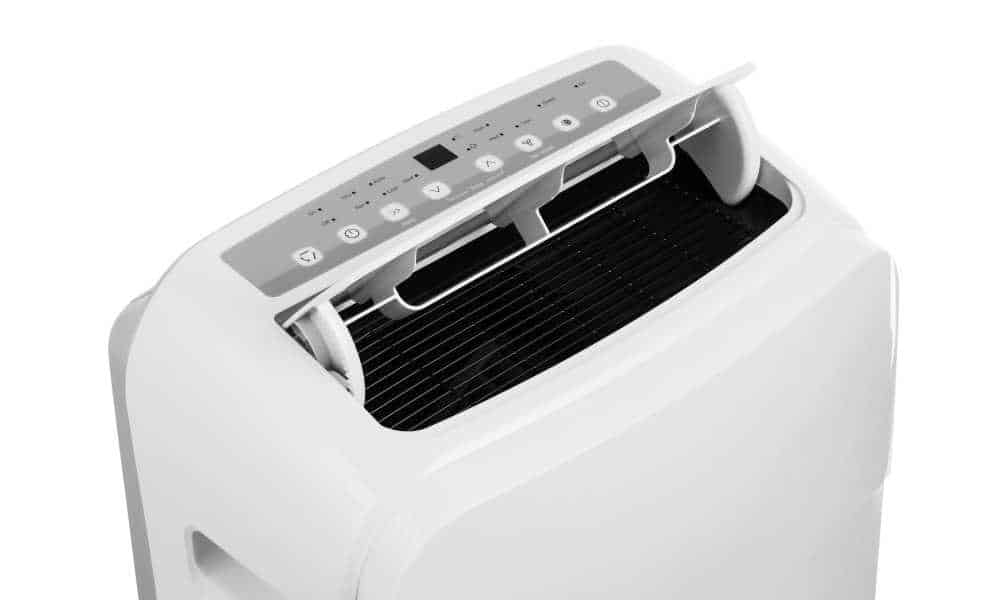 An RV can be a great way to travel, especially if you love escaping to remote locations that require road trips and many rest stops.
The only issue that comes into play is when you end up staying on the road for an extended period of time.
Let's face it, even if you're out on the road, you're still stuck in an RV which has limited space. This means that you'll be cramped in an RV with stuffy air that may be dry and wreak havoc on your respiratory system.
A dehumidifier can help control the humidity within your RV, making it a better living environment. The only question is, what is the best RV dehumidifier?
RV Dehumidifier Comparison Chart





hOmeLabs 1,500 Sq. Ft Energy Star Dehumidifier for Medium to Large Rooms and Basements
Pro Breeze Dehumidifiers for Home, 225 sq ft Mini Dehumidifier, Compact Portable 17oz Capacity for High Humidity in Home, RV, Bedroom, Bathroom, Basement, Kitchen, Laundry or Closet
hOmeLabs Small Space Dehumidifier with Auto Shut Off - Compact and Portable
Keystone 35 Pint Dehumidifier with Electronic Controls
DampRid Moisture Absorber Hi-Capacity Bucket, 4 lb., Fragrance Free, For Fresher, Cleaner Air in Large Spaces, Lasts Up To 6 Months, No Electricity Required
Best RV Dehumidifier Reviews
1. Best Overall - HomeLabs 4 Gallon Humidifier
Are you ready to help protect your RV from the growth of mold and mildew? With the Energy Star-certified dehumidifier, you can get continuous draining options. This unit is designed to have adjustable settings and be easy to use.
The unit offers a user-friendly touchscreen which can quickly and efficiently help reduce odors and bacteria from growing in your RV. This is done through a powerful pump compressor which can help remove up to 4 gallons of moisture from the air in one day. This is great for use in RVs and can also be used in the home.
Summary
This unit is designed to be used with larger areas and can remove up to 30 pints from the air every day. This moisture sucking unit is best for basements, cellars, or large rooms. It's been energy certified so that you can quickly and efficiently absorb moisture without adding to your electric bill.
Many other units are clunky and are hard to store away. This unit is designed to be modern and sleek. It has built-in wheels and also built-in handles which allows it to be easily transported from room to room. It has a quiet mode of operation which won't bother you during the late hours of the night.

The dehumidifier is super easy to use, as all you will have to do is adjust the settings to your liking. The unit can run continuously for 24 hours or until the filter is full. There is also an automatic shutoff feature for when the unit becomes full, thus preventing spillover.
It can help eliminate moisture, odor, and humidity throughout your RV. There is a turbo motor that can increase the fan speed if needed. If you're not completely satisfied, there is a two-year warranty. This unit can be used in spaces of up to 1,000 square feet.
Sale

hOmeLabs 1,500 Sq. Ft Energy Star Dehumidifier for Medium to Large Rooms and Basements
1,500 sq ft Dehumidifier: Our dehumidifier removes up to 22 pints (30 pint 2012 DOE standard) of moisture from the air per day. This Energy Star certified model is fit for medium to large rooms, to quickly and effectively absorb moisture without racking up your energy bill.
Designed For The Modern Home: That most dehumidifiers are clunky eyesores is news to nobody. We designed with the modern consumer in mind: a sleek clean look, convenient built-in wheels and handles, and a quiet fan that won't drown out your current binge-watching obsession.
Super Easy To Use: Dehumidifiers don't need to be complicated, so ours isn't. Adjust to your ideal moisture setting, then let it run its continuous 24-hour cycle until the tank is full, at which point it will automatically shut-off. There's also a drain hose outlet for continuous draining. The hose is not included; we recommend a ⅝" diameter garden hose with an internal threaded end, and optionally Teflon tape for extra security.
Eliminates Moisture Effectively: Our portable dehumidifier reduces moisture through its built-in pump compressor. It also features a Turbo mode that increases fan speed from Normal Air CFM 118 (cubic feet per minute) to High Air CFM 135 for maximum moisture removal.
Important Things To Know: Dehumidifiers emit heat when in use (that's how they absorb the moisture). This product won't work in the same room as an evaporative cooler, and is intended for any indoor space up to 1,500 square feet. It measures 15.2 x 10 x 19.7 inches, has a 0.8 gallon water tank capacity, and removes up to 22 pints of moisture from the air per day.
2. Best Budget Dehumidifier - Pro Breeze Mini 
This home dehumidifier can safely and efficiently help remove any excess moisture from kitchens, bathrooms, closets, boats, small garages, RVs, or any spaces which are under 150 square feet. It has an ultra-quiet technology and operates at 25W. This can help save you money on the electric bill every month. It's super effective at removing mold and dampness in small spaces.
Summary
This small dehumidifier is perfect for places that are smaller than 150 square feet. The tank can hold up to 16 ounces of water and can extract up to 9 ounces of moisture every day. It's quiet and safe to use and uses low energy consumption.
It has an auto shutoff system which will trigger an LED switch to notify you when the unit needs to be emptied. It's super lightweight and is suited for RVs.
Sale

Pro Breeze Dehumidifiers for Home, 225 sq ft Mini Dehumidifier, Compact Portable 17oz Capacity for High Humidity in Home, RV, Bedroom, Bathroom, Basement, Kitchen, Laundry or Closet
SMALL & COMPACT: Lightweight, Compact and Portable Dehumidifiers for Home, Capable of removing up to 9 ounces of water per day with a 16-ounce water tank capacity. Ideal size dehumidifier for rooms of 1200-2200 cubic feet (215 sq ft).
REMOVES 9 OZ OF MOISTURE PER DAY: Our dehumidifiers for home are ideal in small spaces and room sizes up to 225 sq.ft (1200-2200 cubic feet). When full, the dehumidifier will automatically shut off and the LED light will turn-on indicating the water tank needs draining
ULTRA QUIET & ENERGY EFFICIENT: Unlike most dehumidifiers, experience Whisper Quiet Operation in bedrooms, bathrooms and offices, at a power output of just 23W per hour. This dehumidifier uses just 0.55kW of energy when running for 24 hours.
EFFICIENTLY LOWERS HUMIDITY: Perfect dehumidifier for high humidity in your home, kitchen, bathroom, bedroom, caravan, garage, closet. Like all mini dehumidifiers, optimal operating temperature is 59-86°F. It will not work below 41°F.
AWARD WINNING BRAND: Pro Breeze is a world leader in dehumidifiers and was awarded one of America's Best Home and Garden Brands in 2022. Trust Pro Breeze - the only dehumidifier you need.
3. Best Small Dehumidifier - HomeLabs Mini
This unit is a brand new mini dehumidifier which is designed to be used in RV's and other small areas. It's from the Pro Breeze series and can quickly and efficiently remove any moisture or dampness from the surrounding areas.
It's perfect to use in kitchens, garages, caravans, RVs, basements, or boats. Please note that this series is only to be used in temperature between 59-86 degrees Fahrenheit. If it is placed in an area below 59 degrees Fahrenheit, you will have limited performance, and you will likely not see a difference.
Summary
The unit can extract up to 9 ounces of moisture from the air per day. It has a large 16-ounce capacity water tank which is effective and efficient. It has an auto shut off feature that will be indicated by an LED light when full. It's energy efficient and has low power consumption.
To help you not be bothered, they have now installed ultra quiet operation through thermoelectric cooling technology. It's compact, lightweight, portable, and can be moved whenever you need to. It's ideal for offices, homes, or RVs.

hOmeLabs Small Space Dehumidifier with Auto Shut Off - Compact and Portable
Small and compact dehumidifier with 16 ounce / 500 ml capacity tank extracts up to 9 ounces / 250 ml of moisture daily to purify air in enclosed and small rooms and spaces
Features low noise thermoelectric peltier module and energy efficient 25W ETL certified adapter to prevent overheating for safer use. Ideal for use at night with low energy consumption
Quiet dehumidifier shuts off automatically and triggers LED indicator light when the tank is full and water is ready for removal - a convenient option for closets, bathrooms, showers, gun safes and more
Best for removing moisture; provides a healthy working and living environment.
Handy lightweight home dehumidifier measures 6.5 x 5.3 x 8.5 inches, makes it convenient to move from room to room, and its suited for 110V power supply with 2 flat pin plug (9V / 2.5A)
4. Best Energy Efficient Dehumidifier - Keystone KSTAD50B
The Keystone dehumidifier can remove up to 50 pints of moisture from the air every day. It is best used in spaces of up to 3,000 square feet. It features electronic controls which also have an LED display.
You can set a 24-hour timer and it will indicate when the bucket is full; the unit will automatically shut off if the unit has no more space. It has a removable dust filter which is easy to remove and clean. The included auto-restart system can help save you during power outages or the night. The rolling casters make this unit easy to move from room to room.
Summary
This unit has an easy-to-read water level indicator which can help alert you when the bucket is full. It has an automatic shutoff, and continuous draining option if you choose to set it to that. There are multiple types of water draining options that you can choose from, though the hose that is needed is not included.
It has an easy to clean filter which traps dust and can be removed when it needs cleaning. For easy use there is an electronic control with an LED display, making all the settings easily displayed right where you need to see them. The electronic controls included an LED display, a 24-hour timer, adjustable settings, and an auto defrost function.
Sale

Keystone 35 Pint Dehumidifier with Electronic Controls
35-PINT DEHUMIDIFIER: Quickly and efficiently remove up to 35 pints of moisture from the air per day in a space up to 3000 square feet to improve your air quality on many levels.
RELIABLE, CONVENIENT & EASY TO USE: Our model has electronic controls with LED Display and a 24-hour timer. Settings include Normal, Turbo, and Auto-Defrost to keep you comfortable around the clock.
ELIMINATES EXCESS MOISTURE FROM HUMID AIR: The Keystone portable dehumidifier can be placed in various locations throughout your home or apartment such as your attic, bedroom, basement, bathroom, garage, or any other environment.
CONTINUOUS DRAINING OPTION: For extreme conditions, a continuous draining option is available using a low-level drain and a standard garden hose (hose not included) instead of emptying the bucket.
REAP MANY BENEFITS: Protect your home and keep it safe from damage during wet, stormy weather. Whatever your purpose, this dehumidifier will help absorb extra water from your surroundings
5. Best Non Electric Dehumidifier - DampRid Moisture Absorber
If you're worried about water damage in your RV, then look no further. This product is optimal for helping maintain humidity levels in your RV. The hi-capacity unit removes all excess moisture from the surrounding area which can help eliminate odors, bacteria, and protects your RV from water damage.
The DampRid crystals are extremely effective at controlling odors caused by your family, pets, and any equipment or storage. This product is best used for 1,000-square-foot areas and can work up to 60 days or work for 250 square feet areas of up to 6 months.
Summary
Unlike other dehumidifiers that are electronic devices, this is a chemical substance which you can place in your RV to help attract excess moisture in the air. It works in three separate phases. The first phase is to remove the lid and wait for the product to activate, you can leave it uncovered in any area you wish. 
The second phase — make sure its placed on a flat surface and put it in your desired location. The crystals will go to work and harden and dissolve as the moisture is absorbed. The third phase—when the crystals dissolve, you can simply throw away any remaining waste into the trash. It's that simple! This method is great for protecting large areas from moisture damage and can be used in storage rooms, vacation homes, boats, and RVs.
Sale

DampRid Moisture Absorber Hi-Capacity Bucket, 4 lb., Fragrance Free, For Fresher, Cleaner Air in Large Spaces, Lasts Up To 6 Months, No Electricity Required
ATTRACTS AND TRAPS EXCESS MOISTURE: DampRid Hi-Capacity Moisture Absorber Bucket attracts and traps excess moisture, eliminating musty odors from damp areas.
HI-CAPACITY DESIGN features a unique Moisture Lock spill resistor technology with a sealed safety cover for a mess free solution.
IDEAL FOR LARGER SPACES like basements, garages, where stagnant air and excess moisture is a problem.
LONG-LASTING FRESHNESS: The 4-pound Hi-Capacity buckets lasts up to 6 months, depending on temperature and humidity levels.
EASY TO USE: Simply remove the plastic lid exposing the sealed safety cover. Discard once the moisture absorbing crystals have fully dissolved.
RV Dehumidifier Buyer's Guide
The dampness that accumulates in an RV can be a real problem, but there are many solutions to help with this problem. The most effective way is by getting a dehumidifier for your RV.
Dehumidifiers can help remove extra moisture from the air. This can reduce bacteria, mold, and other odors from accumulating in a poorly ventilated vehicle. Listed below are a few things you should consider when deciding to purchase a dehumidifier for your RV.
Benefits of RV Dehumidifiers
There are many benefits to owning an RV dehumidifier. Many people don't believe that they offer much use in an RV because the RVs can usually be ventilated. But the truth is, ventilating your RV doesn't get rid of the excess moisture in the air.
Think about it: When you use the faucet or the shower in your RV, where does the moisture travel? It travels directly into the surrounding areas such as the walls, furniture, and any other objects. This can lead to the growth of bacteria and mold, and even mildew. 
Don't waste your time worrying about how effective a dehumidifier is, but instead buy one before your RV has permanent moisture damage. This is extremely important when you're traveling to humid areas with high temperatures, as these climates harbor bacteria growth and mold.
Absorb Moisture
You'll find that your RV can end up accumulating excess moisture from the outside environment. This can harbor unwanted bacteria and odors that can be harmful to humans if not taken care of. A dehumidifier can help get rid of this excess moisture by absorbing it.
Spills
Sometimes there will be an accident, and you will end up spilling a liquid of some kind. You need to remember that you're in an enclosed space and all the moisture that's left over can start to turn into mold and mildew. A dehumidifier can help absorb the residual moisture that your towel doesn't pick up.
Pets
Pets release bacteria and dander into your RV. While you may love traveling with them, it's no secret that taking them along on a trip can end up causing the place to smell. A dehumidifier can work to get rid of these odors and help create a better living condition for both you and your pet.
Storage
When your RV isn't in use, chances are you're going to use it as a storage unit. If you're trying to keep your RV in the best possible condition, a dehumidifier can help prevent the buildup of molds or bacteria that lurk around on objects.
Odor and Stink
Let's be real, if you're traveling with your family, then you're going to be dealing with some heavy B.O. from time to time, especially if you're traveling during the hotter seasons. No one likes smelling sweaty clothing or stinky shoes from summer vacation.
 A good way to help this is by getting a dehumidifier and placing it close to these objects. You'll also be faced with odors from cooking, grilling, and other food sources. Sometimes opening the window and venting out the RV just isn't enough.
Things To Consider Before Buying an RV Dehumidifier
Listed below are a few things you should consider before purchasing an RV dehumidifier;
Choosing a Type
The very first thing you should do is determine what type of dehumidifier you will need for your RV. Most of the time, dehumidifiers are designed to be used either at home or in the office. This type is called a refrigerant dehumidifier, and it works to condense moisture that is in the surrounding area.
The second type is a desiccant dehumidifier. This works by absorbing water when the air passes after being pushed through a rotor. They are often smaller and will only work in a single area of an RV.
What Size
There are a few factors that are going to impact what size dehumidifier you will need. If you're operating a larger luxury RV, chances are you're going to need to choose a dehumidifier that covers a larger area. If you have a smaller RV, you can get away with having a smaller dehumidifier.
Also, decide how many dehumidifiers you're going to need. Are you just having one in each room? Or are you expecting one dehumidifier to work for the whole RV? These are all questions you need to ask yourself if you're going to invest in an RV dehumidifier.
Extra Features
One way to choose the right dehumidifier for you and your RV is by looking at the different key features of each product.
One of the most important actors is to have an auto-shutoff feature. This ensures that you're RV won't get overheated and also ensures that you won't be using more energy then needed. Another feature you should look for is one that prevents the unit from tipping over. This is especially important if you're going to be using it while you are on the road.

There should also be a feature that can automatically detect what the humidity level is in your RV. Many products offer you the option of a digital display which will tell you what the current humidity is in the room. It can also tell you when the unit needs to be turned off and when the optimal humidity level is reached.

Another feature that you may want to keep an eye out for is an LED or light notification. This can help notify you if the tank is full or if it is empty. This can be useful to prevent an accident from happening or to help ensure the optimal function of the dehumidifier.

Lastly, think about the portability of your dehumidifier. Do you plan to move the unit into the current room you're occupying? Do you plan to leave it in one area? Are you going to have one for each room? If you're expecting to move the dehumidifier, then you should focus on looking for a unit that has wheels and handles to make it easier to transport it around the RV.
Noise
One of the best features you can find in a dehumidifier is one that has a quiet operation. If you plan to use the unit in your RV, you're going to want a unit that doesn't produce much sound, especially if you're choosing to use it during the night or during times when you're trying to relax.
Many old dehumidifiers can produce a loud crackling sound, which may be irritating to someone who doesn't enjoy excess noises. There are many new technologies that are whisper quiet and are barely noticeable.
Warranty
A warranty can be very beneficial to anyone who is purchasing a device online. The standard manufacturer warranty that comes with the unit will usually last up to one year after the purchase date.
While this can be useful, it doesn't mean you won't find yourself running into other issues with the unit over an extended period. This is where an extended warranty comes in handy. Many companies offer more than a year coverage, and you can usually get free repairs and replacements if the device is defective.

If you're lucky, you can find a unit that has a money-back guarantee, though this usually will only last a total of 30 days. This means that if you're not completely satisfied with how the unit is functioning, you can get all of your money back.
Tips For Maintaining an RV Dehumidifier
Here are a few different tips that we can offer you on how to maintain your RV dehumidifier;
Correctly Size
Always make sure that you're purchasing a dehumidifier that can fit the area you want to place it in. If the dehumidifier is not large enough, you may see no difference, and if you choose to use a dehumidifier that is too large, you may risk the area becoming too dry and the unit overheating. Many dehumidifiers will list the area that they can be used in.
Secure
If you're going to be using the dehumidifier while you are driving, you're going to want to make sure that the unit is secured at all times. You can buy a unit with sides on it, or you can secure it by using tape or other materials. If you don't secure the unit, you could risk the dehumidifier tipping over and becoming a dangerous hazard.
Clean
If your unit or the filter needs to be cleaned, make sure that you follow the manufacturer's cleaning instructions. This can help reduce the chances of the unit malfunctioning and also allow it to function at its optimal performance.
Unplug
The unit can sometimes get too hot, and this can become a fire hazard. Although this is very rare, this doesn't mean that it can't happen. You need to be prepared and check the unit and make sure that the temperature is not too hot. Many units come with a digital display that will help alert you if anything is wrong, but older models lack this feature.
Conclusion
In conclusion, a dehumidifier can be one of the best ways that you can get rid of excess moisture in the air of your RV. While you're traveling, you're going to be exposing your RV to extra moisture through weather conditions, food, cooking, storage, and many other factors. You're also going to be building up other odors that get trapped in your RV's interior.

To help combat these issues, a dehumidifier can help reduce the amount of residual moisture within your RV and thus prevent the buildup of mold, mildew, and odors. This is important when you're taking long vacations, as you don't want to be living in an RV that is hazardous to your health.
Create the best environment for both you and your family, as they will thank you during the trip. Remember, a dehumidifier can help prevent the buildup of bacteria and any other problems, thus saving you money in the long run.