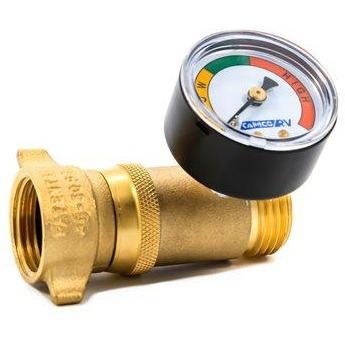 Renator RV Water Pressure Regulator for RV Camper. Brass Lead-free Adjustable RV Water Pressure Regulator with Gauge. RV Water Regulator for Camper Travel Trailer, Reducer Valve W Filter. M11-0660R.
RVAQUA M11-45PSI Water Pressure Regulator for RV Camper - Brass Lead-Free Adjustable RV Water Pressure Reducer with 160 PSI Gauge and Inlet Stainless Screened Filter
Valterra A01-1124VP Brass Water Regulator/Water Pressure Gauge Combo (Carded)
Camco Camper/RV Water Pressure Regulator | Protects RV Kitchen Small Appliances, Plumbing & Hoses | Reduces RV Water Pressure to Safe and Consistent 40-50 PSI | Drinking Water Safe (40055)
Camco Camper/RV Water Hose Pressure Regulator | Reduces Water Pressure to Safe 40-50 PSI & Protects Trailer and Boat Plumbing | Easily Attaches to 3/4-Inch Garden Hose Threads (40143)
Every RV owner has heard of the Renator brand. The M11-0660R adjustable water pressure regulator model is made out of lead-free and durable brass. The durability is enforced with oil, which is sipped inside the gauge.
This high-quality model is compatible with all water sources found in the US, ranging from NH threads to ordinary garden hose threads. The company has a good reputation amongst its clients, mostly because they respond to complaints and assist customers in their needs. 
The water pressure gauge is incremented at 20 psi. The regulator can handle the pressure of 160 psi. Ideal for water sources with inconsistent water pressure. There is a regulator screwdriver at the top of the cap. It is used to adjust pressure.
The RVAQUA M11-45PSI is the second-best water pressure regulator. This lead-free brass construction is manufactured with the help of hot casting process technology. This process is renowned for its anti-microbial properties.
The outside of the gauge is made of stainless steel. On the inside, it is filled with silicone oil. Manufacturing the gauge this way makes it more enduring against sudden pressure changes.
Like the previous model, this one applies to all US water sources. But the similarities don't end here. The screw at the top of the gauge is used to adjust pressure levels. This model is a dual water filter equipped that prevents even the tiniest particle from polluting freshwater.
Valterra is another familiar brand for RV owners. This model protects your RV plumbing system from potential outside damages. It is convenient for long road trips and long adventures.
The pre-set limit on the gauge on this model is between 40 and 50 psi. The gauge is made out of sturdy materials, which prevents it from leaking.
Once again, we have a Camco product on our list. This Camco brass water pressure regulator has a certified low lead content. The compact size makes it a go-to choice when planning lengthy camping trips.
Because it has no gauge, you cannot control the water pressure. The limit is between 40 and 50 psi, but this Camco product executes the one job it has to perfection.
This Camco water pressure constructed of ABS plastic. This material is a thermoplastic polymer, meaning that the product is recyclable after its life-spans ends. It is small, but compatible with various water sources.
This gauge can regulate pressures ranging from 40 to 50 psi. Like the previous entry, this one has no indicator. This means that you cannot control the pressure levels, nor is it applicable to high flow.
FAQs for Buying RV Pressure Regulators
Picking the best RV water pressure regulator is only part of the job. If you are unsure how to use it, then the model is in vain. Now we will answer frequently asked questions, so you can ease your mind on this topic and embark upon your camping adventure.
What is an RV Pressure Regulator?
RV water hose, as they are sometimes called, are devices that fit on the water campground supplies before draining freshwater into the RV. They control the water pressure and create an even water flow that won't damage the pipes inside the recreational vehicle.
How does an RV Water Pressure Regulator Work?
Water sources have their pressure levels, which are measured in psi. A water pressure regulator lowers the pressure below dangerous levels. At the same time, it regulates the flow of water so it won't damage the freshwater systems. 
If the pressure from the source is 120 psi, for example, the regulator will lower it to safe levels. Usually, RV water lines can handle around 100 psi.
Benefits of Having an RV Water Pressure Regulator
Owning an adjustable regulator often makes the difference between a fulfilling camping trip and a disaster. Campground water sources can be unpredictable. Even if the psi levels are safe, something could happen to damage your recreational vehicle. If you apply a regulator before draining water, there is no danger of damaging the RV's plumbing system.