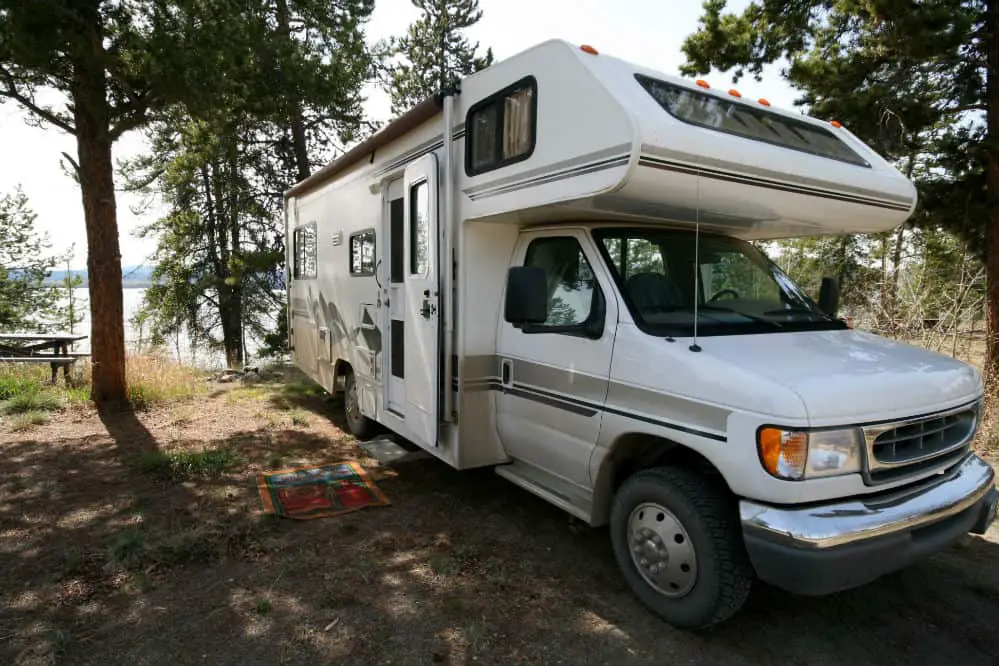 RV Toilet Comparison Chart





Dometic 302320081 320 Series Standard Height RV Toilet, White
Aqua-Magic V RV Toilet Pedal Flush /High Profile / Parchment - Thetford 31672
Dometic 320 Series Standard Height Toilet w/Hand Spray, White
Nature's Head Self Contained Composting Toilet with Close Quarters Spider Handle Design
Camco 5.3-Gallon Portable Travel Toilet | Features Detachable Holding Tank w/Sealing Slide Valve & Bellow-Type Flush | Easy Transport w/Compact Lightweight Design & Carry Handle | Gray (41541)

Aqua-Magic V RV Toilet Pedal Flush /High Profile / Parchment - Thetford 31672

Dometic 320 Series Standard Height Toilet w/Hand Spray, White

Nature's Head Self Contained Composting Toilet with Close Quarters Spider Handle Design
Best RV Toilet Reviews
Best Overall RV Toilet: Domestic 320 Series Standard Height Toilet

No matter the location where you take your RV, it is guaranteed that everyone in your family or group will need to answer the call of nature at some point. Therefore, having a reliable toilet for your RV is essential. One such product is the Domestic 320 Series Standard Height Toilet which we believe to be best overall RV toilet available.
The fact it is at a standard height with an enameled wood seat makes it comfortable for everyone using it and puts it ahead of most other toilets straightaway. The seat is also elongated which adds to the feeling that it is just like a domestic toilet. The rim is specially designed to prevent spills and splashes, which not only keeps the toilet hygienic, it also cuts down on unnecessary cleaning time.
When it does need cleaning, the ceramic bowl can be cleaned just like your toilet at home and will stay bright and shiny for years. Flushing the toilet is hands-free where you simply press the foot pedal partially for water, and then fully for it to flush.
Sale

Dometic 302320081 320 Series Standard Height RV Toilet, White
COMFORTABLE AND FULL-SIZED: The elongated, deep ceramic bowl and full-size enameled wood seat of the Dometic 320 series RV toilet offer unmatched comfort, unlike most smaller RV toilets.
EFFECTIVE FLUSHING: The pressurized full-rim flush ensures a thorough bowl-clearing rinse every time, so you don't have to worry about any lingering odors or debris.
DURABLE AND EFFICIENT: Made with 100% vitreous ceramic bowl, the Dometic 320 is built to last and withstand wear and tear. It is also designed to conserve water, using only one pint per flush to reduce water waste.
EASY TO USE: The ergonomic foot pedal allows for easy operation. Press it partially to add water and fully to flush.
FUNCTIONAL RIM DESIGN: The Dometic 320 toilet comes with a rim design that effectively prevents spills. This ensures that you can have a hassle-free toilet experience in your RV without worrying about making a mess.
PROS
CONS
CHECK LATEST PRICE ON AMAZON.COM
Best Budget RV Toilet: Thetford Aqua-Magic V RV Toilet

If you don't like the thought of spending hundreds of dollars on a toilet for your RV, then check out the Thetford Aqua-Magic V RV Toilet which we consider the best budget RV toilet. Its dimensions give it a height of 17.5 inches which means it is at a comfortable height for everyone using it. The bowl is also a decent size at just under 18 inches from front to back.
The lid is textured which gives it a nice finish but this has a practical use, as it resists scuffs and sheds any water which splashes onto it. The hands-free flushing system has a pedal at the front of the toilet which is pressed halfway down for the water to start flowing, and then fully down to flush. It's easy to install, comfortable to use, does everything you'd expect or want of it, and comes at a price that makes it fantastic value for your money.

Aqua-Magic V RV Toilet Pedal Flush /High Profile / Parchment - Thetford 31672
Aqua-Magic V is the RV toilet with a classic style and taller seating height, suited for all recreational vehicles
The toilet has a single-pedal system - press it halfway to add water to the bowl and all the way to flush - and offers 100% bowl coverage flush
Aqua-Magic V has a textured lid which sheds water and resists scuffs, offering the comfort and feeling of a household toilet
A lightweight 17-1/2 inches plastic RV toilet, easy to install, use and service
Easy-to-use single-handle flush; half way adds water, full activation provides a full-bowl coverage flush
PROS
CONS
CHECK LATEST PRICE ON AMAZON.COM
Best Hand Spray RV Toilet: Domestic 320 Series RV Toilet with Hand Spray

If you like to keep your RV, as clean and hygienic as possible, then having an RV toilet with a hand spray will be something of interest to you. This allows users to clean the toilet bowl thoroughly whenever flushing hasn't quite got rid of everything.
The best product we have found of this type is the Domestic 320 Series RV Toilet with Hand Spray. It stands at 18 inches in height so there should be no issues in terms of comfort especially when you also consider the full-size enameled wood seat.
Hygiene is certainly at the top of priorities with this product with the gravity flush system being operated by foot rather than by hand. Simply press the pedal and the flushing process begins, and in most cases, this only requires 1 pint of water –  not forgetting that you have the hand spray to make the ceramic bowl spotless if required.

PROS
CONS
CHECK LATEST PRICE ON AMAZON.COM
Best Composting RV Toilet: Nature's Head Self Contained Composting Toilet

Instead of a toilet which is installed in your RV, you might require one which has portability and can be used in multiple locations. It may also be the case that you need a toilet for use where there is unlikely to be any sources of water.
If that is the case then we believe the best composting RV toilet is the Nature's Head Self Contained Composting Toilet. It is made from durable and stainless materials so it is built to last. It can be assembled and disassembled quickly and easily, especially when it needs to be emptied.
It has a small fan which circulates air within the bathroom in which the toilet is located so that nobody using it has to suffer foul smells or odors. The toilet seat is elongated and is equivalent to a full-size domestic toilet so it will be comfortable to sit on no matter what location it is being used.

PROS
CONS
CHECK LATEST PRICE ON AMAZON.COM
Best Portable RV Toilet: Campco Portable Travel Toilet

If you are looking for a portable toilet that also has a very low price then the best one we have found is the Campco Portable Travel Toilet. It is ideal for camping, trips in RVs, boating, fishing and other recreational activities where toilet facilities are not provided.
The Campco portable toilet has an excellent flushing system which keeps the toilet clean and hygienic at all times. The flush tank can hold 2.5 gallons and be easily filled by removing the screw cap at the top.
To attach the top half, which has the bowl, seat and flush tank, to the base, there are two clasps which hold it securely in place and prevents any possibility of leakages from the sides.
The detachable holding or waste tank holds up to 5.3 gallons. The flush operates using a bellow mechanism which seals the tank after flushing and prevents unwanted smells and odors from escaping. When you need to empty the waste tank it has handles to make carrying it easier.
Sale

PROS
CONS
CHECK LATEST PRICE ON AMAZON.COM
RV Toilet Buyers Guide
The Difference Between RV Toilets
There are basically three types of toilets that are suitable for use with RVs: gravity, portable and composting.
Gravity
These toilets tend to be the most common on RVs. They operate with a tank above the toilet which fills with water from the supply plumbed into the RV. When flushed the water flows downwards from the tank because of gravity, thus the name.
Portable
Portable toilets are not plumbed into any water source so the flush tank needs to be filled with water and normally with a chemical which acts as a cleaner and disinfectant. The waste tank needs to be emptied safely and hygienically when full.
Composting
This type does not use water, and it does not normally flush. Liquid and solid waste are separated and go into different drums underneath. Here a composting process takes place which means the waste tank does not need to be emptied as often as other toilet types.
Things to Consider Before Buying an RV Toilet
Installation Process
Are you handy with a wrench or all fingers and thumbs. Most RV toilets need some degree of installation so if you hate that sort of thing you might want to look for the simplest.
Hygiene
Let's be honest; toilets are not the healthiest of places so think about the different hygiene levels each RV toilet offers. You might want to consider hands-free flushing or sprays to clean the bowl to make your toilet the cleanest and most hygienic it can be.
Comfort
Two things will influence how comfortable your toilet is… its height, and the seat size. Those with domestic toilet heights and seat sizes will be the most comfortable.
Price
If you only need an RV toilet for occasional use, then spending hundreds of dollars is not worth it. There are some great portable toilets with budget prices so consider them first.
Features
The type of toilet you buy will dictate the sorts of feature is has. The main criteria should be to find a toilet that meets your needs in terms of size, convenience, hygiene and budget.
Conclusion
There not a lot we can do to stop us having to answer the call of nature when we are on an RV trip; this means having a suitable RV toilet with you. Of the ones we've reviewed the simplest is the Campco Portable Toilet which can be used in lots of scenarios.
At the other of the scale you have Nature's Head Composting Toilet which means you don't need water and can compost all your waste back to nature. The Domestic RV toilet with hand spray is great if you want to keep your toilet bowl extra clean, and for those you don't want to spend much to 'spend a penny', the Thetford Aqua-magic is a great budget toilet.
Finally, we have what we believe is the best overall RV toilet, and that is the Domestic 320 Series Standard Height Toilet which is comfortable, hygienic, and great value for your money.