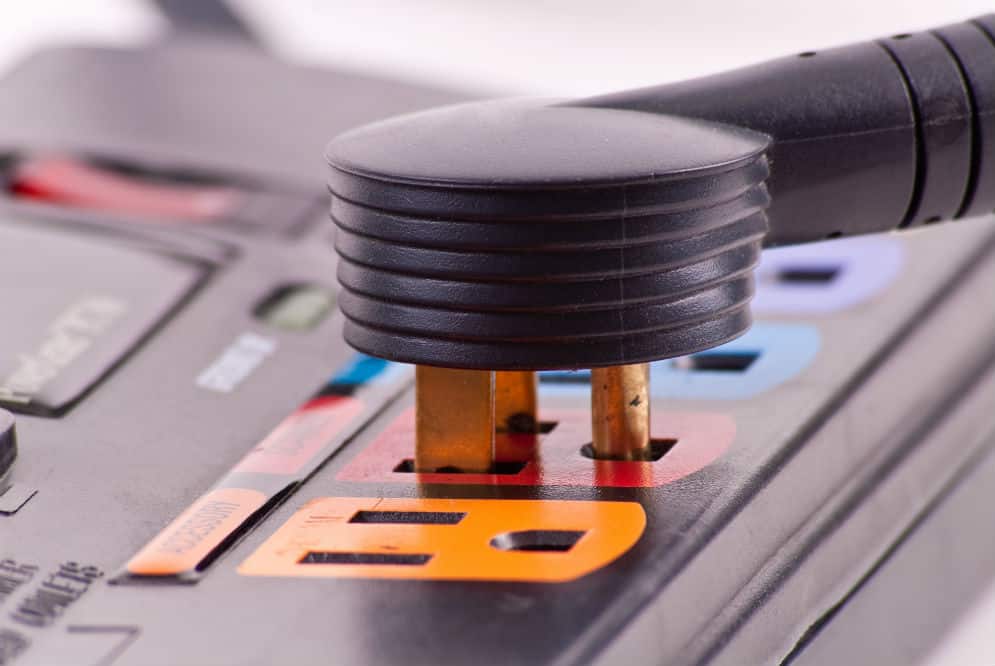 Best RV Surge Protector Comparison Chart
Progressive Industries SSP 30XL + 50 XL Surge Protector


One of the top manufacturers of RV surge protectors is Progressive Industries, and their 'plug and play' SSP 30 amp and 50 amp surge protectors are two of the best available. They will indicate if anything has been wired incorrectly, can detect reverse polarities, signal surge failures and highlight if your RV has an open ground or neutral.
A set of 3 colored LEDs will indicate what fault has occurred so that you can take the appropriate action. Both the 30 amp and 50 amp versions are manufactured with tough housing and are weather resistant so there is no problem with using them outdoors.
Pros
Highlights multiple fault types
LED indicator lights
Weather resistant
Locking bracket
Cons
Poor installation instructions
Makes humming noise
Camco 30 Amp + 50 Amp Power Defender


The Camco Power Detector comes in 30 amp and 50 amp versions and will protect your RV from both low voltage and high voltage levels. If the unit detects any dangerous variations such as a power surge, or the voltage level dropping, it will automatically disconnect from the supply and then reconnect when the voltage level regulates.
It has diagnostic LED lights which will indicate reverse polarity and open neutral faults. The unit is water resistant so it can be used in all weather.
Pros
Automatically disconnect on faults
LED diagnostic indicator lights
Weather resistant
Power grip handles
Cons
Above average price
Not lockable so vulnerable to theft
Camco 30/50 amp Heavy Duty RV Circuit Analyzer
This surge protector has 30 and 50 amp versions and will protect your RV's electrical system against voltage surges, and drops in power. Prior to connecting your RV to the electrical supply, you plug the analyzer in first.
Colored LED lights on the device will illuminate to indicate if there are any issues, and what the specific problem is. The device is weather resistant for outdoor use. It also is priced very competitively compared to similar power surge protectors.
Pros
Very easy to use
LED fault indication lights
Protection up to 2100 joules
Excellent price
Cons
Unit is bulky
Not lockable
Best RV Hardwired Surge Protector Comparison Chart
Progressive Industries 30 and 50 amp Electrical Management System


For comprehensive protection against all sorts of electrical supply issues, this hardwired electrical management system is hard to beat. It detects and protects against reverse polarity open ground/neutral, voltage surges, voltage drops, will highlight mis-wired power pedestals plus it provides A/C frequency protection.
A separate digital display allows you to scroll through and see information on faults. You can look at previous error codes plus adjust the time delay that the device has before reconnecting after a fault has occurred. It has thermal protection so it can operate even in the hottest temperatures and if anything ever goes wrong with the device it can be serviced on site by a qualified technician.
Pros
Scrolling digital display
Multiple fault type detection
Operates in all temperatures
Field serviceable
Cons
Hums when in use
Top end price
Progressive Industries Hardwired RV Surge & Electrical Protector 30/50 Amp


This hardwired RV surge protector detects and guards against multiple fault types to ensure that the electrical system in your RV, and any devices connected to it are protected at all times. The unit has a built-in LCD display which scrolls through the power information and provides readouts on voltage levels, current, fault types, and previous error codes.
When in operation it protects against voltage drops and surges, open neutral/ground, polarity reversals, and has accidental 240v protection. There are also indicators for surge failure and a mis-wired electrical pedestal.
Pros
Built-in digital display
Multiple fault type protection
Operating temp -40c to 105c
Lifetime warranty
Cons
Display is very small
Installation can be difficult
Surge Guard 30 amp/50 amp RV Power Monitor

The Surge Guard Power Monitor is a hardwired surge protection device which can protect electrical devices and your RV's electrical system from power surges up to 3850 joules. Whenever the device detects a power surge it will automatically disconnect the supply for just over 2 minutes and switch it on again once the power levels have normalized.
It can protect against other faults such open ground and neutral, low voltage levels, reverse polarity and wrongly wired pedestals. The front of the unit has multiple LED lights which indicate which fault has occurred plus there is a power on light to indicate it is switched on and monitoring your electrical system.
Pros
Easy to install
Automatic reset
3850 joules power surge protection
LED indicator lights
Cons
No digital display
Takes time to power up
Best RV Portable Surge Protector Comparison Chart
Progressive Industries 30/50 Amp Portable RV Surge Protector


This portable RV surge protector is ideal for outdoor use as it is weather resistant and can operate in both extreme cold and hot temperatures. As it is portable there is always the danger that it may be stolen, however, it is lockable so this should prevent that from happening.
It will protect your RV and its electrical devices against multiple fault types which include low voltage, voltage surge, open ground or neutral and reverse polarity. The built-in rolling display allows you to see it that is in operating mode, plus if any faults occur they will not only be displayed, but you can scroll through to see previous error codes.
Pros
Lockable
Scrolling display
Plug and play
All-weather shield
Cons
A bit pricey
Shield breaks off easily
Technology Research 30 and 50 amp Portable Surge Guard


This plug and play surge guard is an easy and convenient way to protect your RV from power surges and voltage drops. It is compact and can be employed simply by plugging it between your power pedestal and the line cord.
It constantly monitors the amperage and voltage of your RV's power supply and cuts it off if there is a significant increase or decrease. It will then automatically reset when the power supply is back to normal voltage levels.
The power surge guard also gives protection against reverse polarity, open grounds, open neutrals, a wrongly wired pedestal, and it will also alert you if its plug is overheating. The small LCD display on the front of the unit will identify what faults have occurred.
Pros
Plug and play
Multiple fault detection
Auto reset
Detects overheating plug
Cons
Display is tiny
Not lockable
Camco RV Circuit Analyzer 30 + 50 Amp
The first thing to note about this Camco portable surge protector is its price. Whereas some surge protectors can cost over $200 this one is priced under $100 making it great value for your money.
It is very easy to set up and once is it connected it will analyze your RVs electrical supply and highlight any issues or faults. Power surges up to 2100 joules can be detected and thus stopped from damaging any electrical equipment which is switched on at the time.
Pros
Weatherproof
Simple installation
Diagnostic LED indicator lights
Very low price
Cons
Easily stolen as it is not lockable
No LCD display
RV Surge Protector Buyers Guide
Benefits of Having an RV Surge Protector
The main reason you want to use an RV protector is the risk to any equipment which is plugged in at the time of a large power surge. This can be enough to destroy electronic devices such as a laptop, plus a power surge can also wipe out your RV's electrics.
Not only is there the inconvenience, but there can potentially be a huge financial cost to repairing damaged RV electrics or replacing appliances and devices which have been damaged beyond repair.
Things to Consider Before Buying a Surge Protector
30 amp or 50 amp
Most RV surge protectors come in both specifications so which one is right for you? The answer depends on what power specification your RV has. Larger vehicles like motorhomes, are likely to be 50 amp because they require more power, whereas smaller camper vans will probably be rated 30 amp.
Hardwired or portable
If you like easy installation which requires no more than plugging the unit in then go for portable. However, be aware that as they normally sit outside your RV, they have been known to be stolen. There are some which are lockable so look for this. They are also exposed to sunlight and rain which can cause issues.
Hardwired surge protectors do require some installation, but once installed they are permanent and less likely to suffer either from theft or from damage due to weather.
Tips for Maintaining Surge Protectors
Always read the installation instructions, and if unsure, get a qualified RV installation engineer, especially for hardwired units
Where possible keep the unit protected from direct sunlight and from rain. Although many are weather resistant this can vary greatly between products
Keep trailing lines away from pathways and where other campsite users are likely to walk
Always follow the operating instructions for your RV's electrical system, and always use the specified connections.