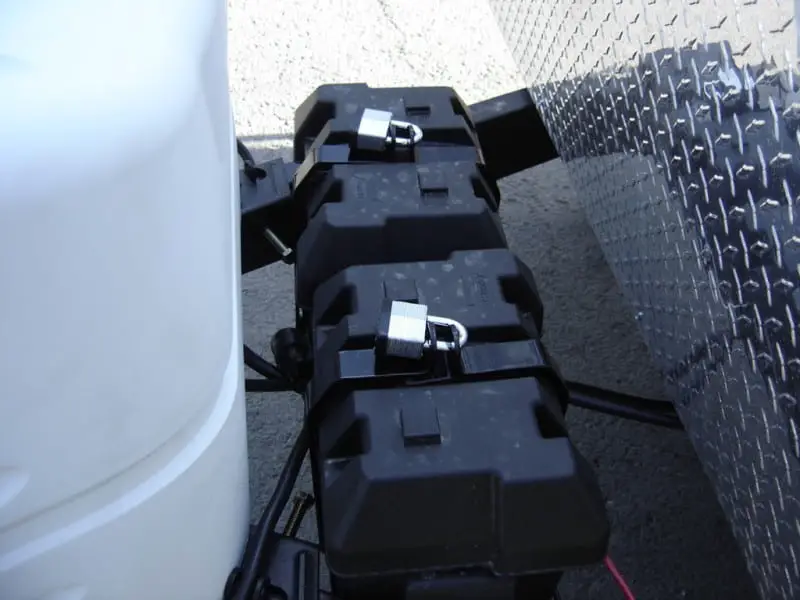 NOCO Black Snap-Top Box for RV Batteries
Camco Heavy Duty Large Box with Hardware
Heavy-Duty Acid-Resistant Power Guard Series 27 Vented Battery Box
NOCO HM426 Dual 6-Volt Commercial Grade Battery Box




NOCO Snap-Top HM318BKS Battery Box, Group 24-31 12V Outdoor Waterproof Battery Box for Marine, Automotive, RV, Boat, Camper and Travel Trailer Batteries
Camco Large Battery Box with Straps and Hardware - Group 27, 30, 31 |Safely Stores RV, Automotive, and Marine Batteries | Measures Inside 7-1/4" x 13-1/4" x 8-5/8" | (55373), Black
attwood 9067-1 Heavy-Duty Acid-Resistant Power Guard Series 27 Vented Marine Boat Battery Box, Black
NOCO HM426 Dual 6V GC2 Commercial-Grade Battery Box
If you own an RV, you know that having a battery box is an important RV accessory. It is important to protect the battery from the elements and a standard battery box will do that. If you don't have one, you run the risk of damaging your battery.
These containers are roughly the size of a small toolbox, but rather than hold jumper cables, spare RV parts like stainless steel hardware, or small portable battery chargers, you place the battery of vehicle in it.
It may seem like a simple purchase, but there are different options available, as well as a few things you need to consider when purchasing one for a camper. We've taken a look at various models of an RV battery box to come up with our top 4 picks.
This is a heavy-duty container and perfect for batteries in the 24 to 31 group size. It's great for all types of rugged environments and is unaffected by a variety of substances, including gas, acid, and oil.
It stops the battery from moving around too much, provides ventilation, and it prevents accidental shortening of terminals and collects battery acid. Nothing will get in or out, and the battery will be well protected.
This option boasts excellent design and functions well. It includes strap brackets to hold down the lid and screws, so there's no need to worry about purchasing these separately. The brackets can fit in the holes at the bottom to stop the box sliding on any surface.
The box is sturdy, lightweight, and easily carried around. This product fits group 27, 30, and 31 inside with no issues and shouldn't move around. 
This is one of the sturdiest options out there and can be dropped almost anywhere without causing damage. It can resist extreme temperatures, whether they be hot or cold. Attwood products are renowned for their durability, and this one is no exception.
It's perfect for size 27 batteries and is a very well vented. It's completely resistant to acid and includes all the bonus mounting hardware that you require.
This is an option designed for motorhomes that requires a deep cycle, but rather than use a 12 volt, the owner wants to use two 6 volt batteries. There are large entry holes for battery cables, vents for thermoregulation, and an acid reservoir. 
It can withstand freezing temperatures as well as harmful substances like oil, gas, and acid. It even does a great job of protecting the battery from the elements and lets in minimal water from the outside. Besides being able to withstand extreme temperatures, this option is also designed for marine batteries making it ideal to take out on the water.
FAQs For Buying RV Battery Box
To help with your decision making, we've answered a few of the more popular questions that come up time and time again when looking for the best RV battery box.
What is an RV Battery Box?
It is a lightweight case made of damage-resistant polypropylene designed to house the RV battery as it is resting on a battery tray to help prevent shaking, and the case protects it from the elements. This might include water, gas, oil, and even acid, all the things that you find inside an engine.
All of the substances pose a threat to the life of your battery, so anything that will help prevent damage is worth the investment. It's a good idea to get one unless you want to put important parts of your vehicle in jeopardy. 
Do I Need to Lock My Battery Box?
It's certainly recommended. For starters, it will mean that the battery is secure and won't be falling out or rattling around too much. Many are snap-top battery boxes, and they come with straps and even locks to make sure they don't come open.
Others also recommend locking it to something more sturdy so that it can't get stolen. A strap can also work well with this or figuring out a way to drill it to the floor.