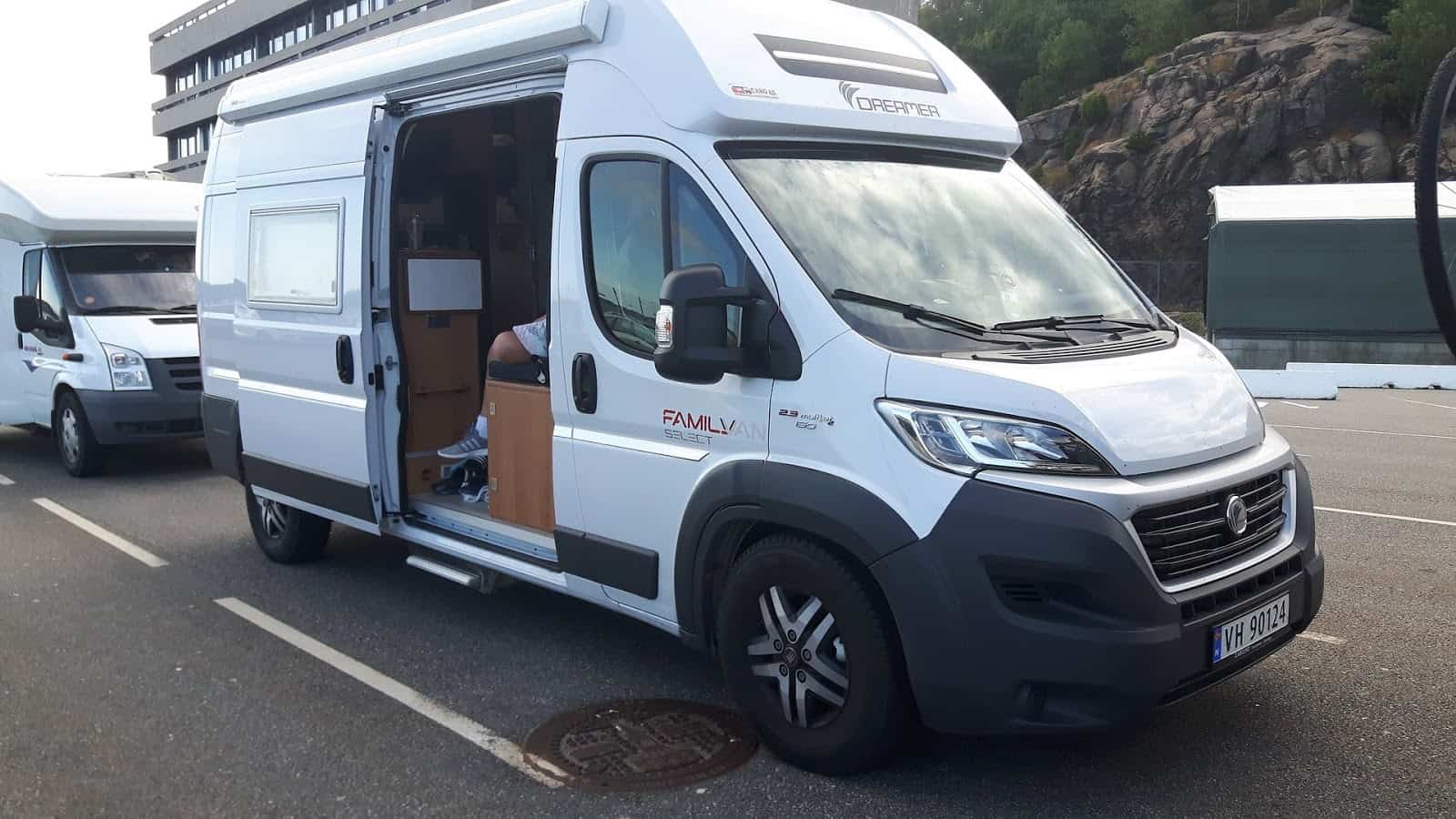 Having a small RV or trailer can make weekend getaways a lot easier. Smaller rigs are usually easier to tow, park, store long term, and have better fuel efficiency.
The problem with smaller RVs is they don't always include a bathroom and shower. Not having your facilities means you have to go with nothing, haul your waste in a portable black tank, or use what is provided in the campgrounds which can be substandard.
Looking to find the smallest RV that will offer the luxury of an onboard restroom and water heater? Check out these wonderful options!
Smallest Travel Trailers With A Shower & Toilet
This is actually quite a broad category which encompasses the pop-up camper, A-frame trailers, teardrop campers, the traditional bumper pull, and fifth wheels. While all of these differ slightly, they all have one thing in common: Towing is required.
Some of the smallest travel trailers that include a shower and toilet are listed below.
14' iCamp Elite
The ultimate towable micro-camper, the 14' iCamp Elite somehow manages to pack a lot of functionality into a teeny tiny space. This camper features a bathroom, fridge, and oven, as well as a dinette that converts into a comfy, relatively large bed.
13' Scamp Trailer with Front Bathroom
We love Scamp trailers! Why? The build of these fiberglass trailers makes them almost 100% leak-proof, something every RV owner will tell you is a miracle. Additionally, despite their tiny size, Scamp manages to cram everything you need into their rigs.
A comparable brand is Casita, which also offers a nearly leak-proof build and great floor plans.
Little Guy Mini Max
Yet another awesome addition to the world of small campers, the Little Guy Mini Max is everything you need in a camper. Featuring a wet bath, a surprisingly large refrigerator, and a versatile convertible dinette, you are sure to be comfortable in this RV.
Class B RVs With A Shower & Restroom
Next in our lineup is the class B motorhome. These are smaller rigs that are often referred to as campervans thanks to their van-like appearance. People love these motorhomes because they are easy to drive while still providing them with everything they need.
Try the options below if you're looking for a class B complete with a restroom.
Airstream Interstate Twin Dual Wardrobe
With two twin beds in the back, this deluxe campervan is perfect for those traveling with a friend. We also love the two separate wardrobes, something that is rarely found in class B motorhomes.
The bathroom in this RV is a wet bath, meaning the shower is in the same space as the RV toilet. However, we think this a worthwhile tradeoff for keeping things as small as possible.
Leisure Travel Vans U24MB
Technically, this van is a class B+, meaning it is slightly larger than your typical class B. That said, the extra space is well used. The Murphy bed is an excellent space saver, and the enormous bathroom is just wonderful. We also appreciate that this rig features a slide-out, something you won't find in many class Bs.
The Sportsmobile Mercedes-Benz Sprinter Extended
This customizable RV is just perfect for those who wish to have a say in every aspect of their RV floorplan. From the bed arrangements to the colors, you get to decide what goes into your Sportsmobile Mercedes Sprinter van. Once again, this RV features a wet bath rather than a full bath in the name of saving space.

Class C RVs With A Shower & Toilet Onboard
A class C motorhome is the perfect option for those who want something roomier than the tiny class B but prefer a truck-like driving experience rather than the bus-like setup of the class A. Class C RVs also tend to be a bit less expensive than class A motorhomes, and they often offer more sleeping spaces, making them ideal for families.
Below are some of our favorite small class C motorhome options.
Winnebago View 24M
The perfect small step up from a class B, the Winnebago View 24M is a compact class C with a roomy and comfortable living area. The RV features an over-cab bunk as well as a pull-out couch and convertible dinette, meaning it can sleep plenty of people. That said, there is no bed in the back. This leaves room for a surprisingly large bathroom, something we adore.
Thor Chateau 22B
Another great small class C is the Thor Chateau. While this RV comes in a variety of different floorplans, we especially love the 22B.
This classy RV offers users a cab-over bunk as well as a queen bed in back, meaning no transitions are required once bedtime rolls around. There is also a relatively large bathroom in this rig, which is made possible by the bedroom slide.
Coachmen Leprechaun 210RS
The Leprechaun is one of the most popular class C RVs on the market. What we love about this particular floor plan is the amazing pantry space as well as the J-lounge style dinette, both of which make cooking and dining in the RV a breeze.

Class A RVs With A Shower & Bathroom
Many believe there is no such thing as a small class A. After all, most of these motorhomes are quite large. The fact that they are built like a bus makes them look and feel even bigger. That said, there are a smaller class A options.
Below are some of the best small class A motorhomes that contain both a toilet and a shower.
Thor Vegas 25.6
The Thor Vegas features a drop-down over-cab bunk that makes for plenty of sleeping area. We also love the slide, which really opens the RV up. Note that the Thor Axis line of motorhomes is almost identical to the Vegas line and is also an excellent option.
Winnebago Intent 26M
Winnebago is a fabulous, reputable company that puts out quality products. The Intent is no exception. This small class A features two slides, making it feel large while still maintaining a relatively small profile. We love the split-bathroom feature, which makes getting ready much easier.
Thor A.C.E 27.2
Another great small model by Thor, the A.C.E. 27.2 is noteworthy for a variety of reasons. The king-sized bed is beloved by many. This floorplan is also different in that it fits both a dinette and a sofa in the small space. This is something neither of the other class A's we've listed can claim.