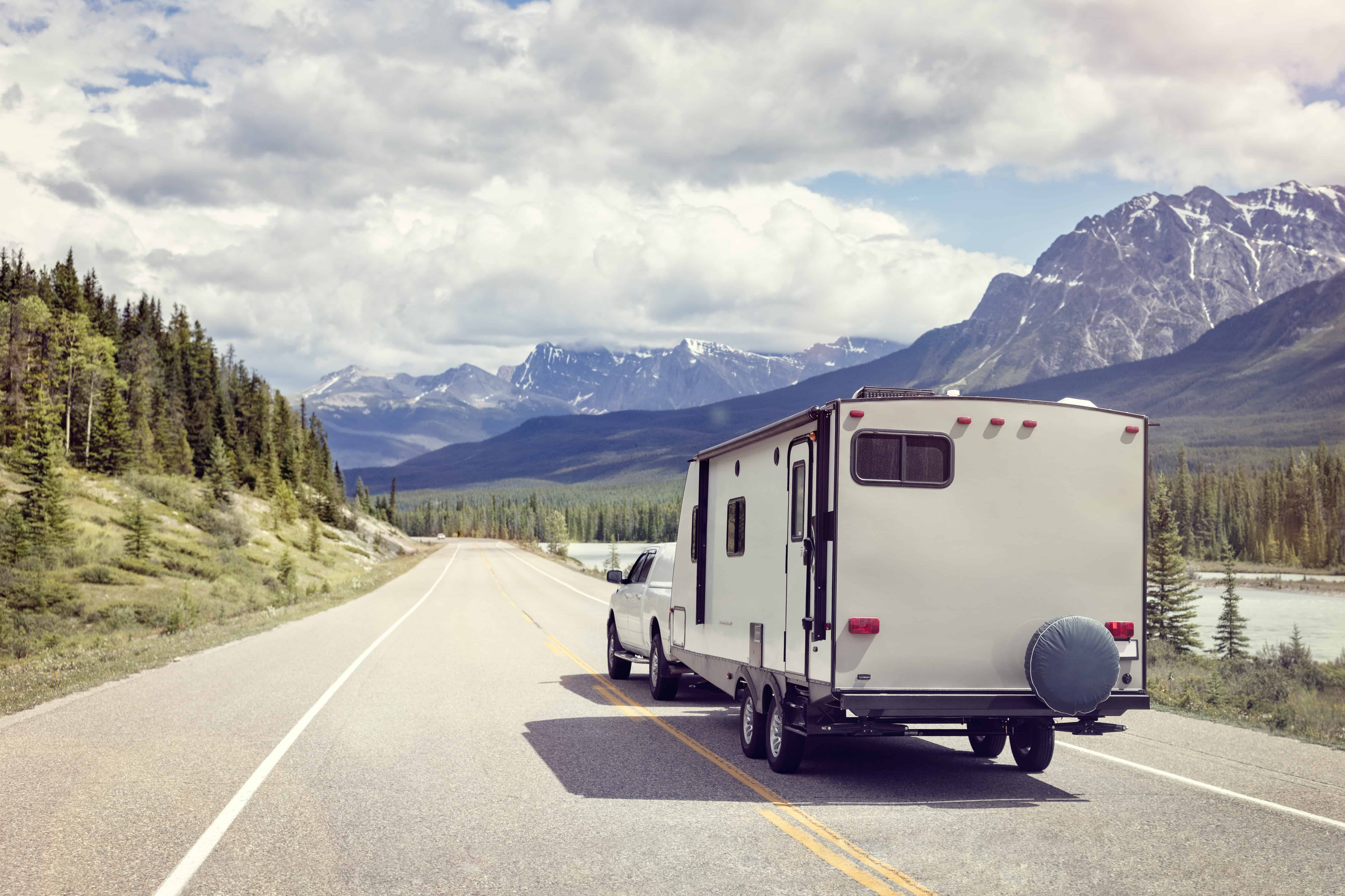 Pricey camper vans seem to take all the glory these days. However, we shouldn't disregard compact trailers.
They provide all the standard features (sleeping space and a kitchen, a roof above your head) in an affordable, convenient package. They are the best choice for more casual adventurers who prefer not buying huge campers that eat up large amounts of gas and space.
 Also, if you decide on a small trailer,  you can do the towing using your regular car — no need for particular vehicles for camping. When you go lightweight, you can attach it to the SUV you use for commuting.
 Today, we decided to focus on the best lightweight travel trailers - all under 200 lbs! Let's jump into our lightweight campers of choice and show you the best small motorhomes. 
Travel Trailers Under 2000 Pounds Reviewed
Taxa TigerMoth Outdoors Travel Trailer
Taxa TigerMoth comes with two floor plans under 1,800 lbs, with aluminum and steel keeping it sturdy and durable. Both the outside and the inside of this trailer boast everything you need. The exterior features a grill, a solar-heated shower, and a bike rack. 
Inside the lightest item on our list, you will find a cozy kitchen with cabinetry, USB ports for charging your devices, as well as LED lighting.
 You may even upgrade TigerMoth to feature an enclosed shower tent, an AC, a mesh screen door, and much more. Once you fall in love with this camper, we are sure you're going to explore all the options.
Weight: 900 lbs dry weight
Length: 12ft
Floor Plans: 2 available
Sleeps: 1-2 people
Taxa TigerMoth Video Walk Through
Happier Camper HC1
So, you're looking through small campers hoping to find style? This camper sticks out with its retro design and vintage aesthetics, but the benefits don't stop at its layout. The ultra-light package is all made of fiberglass for a light and secure vehicle.
HC1 offers incredible flexibility when it comes to the interior. You see, their adaptive innovation features expandable cubes that remind us of Legos. You can move them around to suit your travel style - make the sleeping space larger at night by popping out bunk beds, and the kitchen by day. It's all possible. 
Another benefit of this little guy is that Happier Camper will allow you to rent it and give it a shot before you buy it.
Weight: 1,100 lbs unloaded
Length: 10ft
Floor Plans: 1
Sleeps: 1-4 people
Happier Camper HC1 Video Walk Through
Forest River Geo Pro Rockwood Travel Trailer
The Rockwood Geo Pro comes in two plans. There's the 12SRK, offering more space and weighing in a little higher than the 12RK. However, both are under 2,000 lbs. 
This camper is cozy, vacuum laminated, and packed with useful features. On the outside, you may use the stove & grill combo for an effective outdoor kitchen, and a power awning. If you're headed out in the winter, you will enjoy the furnace, a TV antenna, and the wi-fi booster. 
They also offer upgrade options for bikes and an AC if your preferred traveling time is the hot summer days.
Weight: Starts at 1,100 lbs
Length: 11-20ft
Floor Plans: Seven
Sleeps: 2-4 people
Geo Pro Rockwood Video Walk Through
Aliner Ascape Travel Trailer
The Aliner Ascape weights under 1,200 lbs, while spanning across 13 feet - it's quite spacious for a compact trailer. It comes in 5 floor plan variations, all under 1,800 lbs, so the choice is yours. The front comes with a solar panel, too, to delight the eco-friendly campers.
This camper isn't lagging behind regular travel trailers when it comes to features. There's a Bluetooth sound bar and a TV, a refrigerator and furnace - and more. If you thought you must give up these amenities for going light, Ascape is there to prove you wrong.
Weight: Starts at 1,170 lbs
Length: 13ft
Floor Plans: 5
Sleeps: 2 people
Aliner Ascape Video Walk Through
Forest River Flagstaff E-Pro 
The Flagstaff comes in an ultra-lite design while remaining packed with excellent features. The outside consists of the 6-side aluminum cage to keep it light and safe, and the roof and walls are vacuum laminated. You may even install a camera to put you more at ease while you're camping.
When it comes to the interior, with Flagstaff, you can enjoy a wi-fi range booster even when you're out and about. There is also a cooktop and even a microwave. As the camper sleeps two people, they will find everything they need inside this neat-looking trailer.
Weight: 1,164 lbs unloaded
Length: 12 ft
Floor Plans: 2 under 2000 lbs
Sleeps: 2 people
Flagstaff E-Pro Video Walk Through
Scamp Travel Trailer
The Scamp comes in two different floor plans (13 and 16 feet) that meet our lightweight standards.  
The 13-footer comes in standard and Deluxe models - Deluxe coming with a wet bath instead of a separate shower and toilet. Besides, the only difference between the two Scamp models is their size.
The body is made of fiberglass, and the outside features excellent insulation and even a porch light. On the inside, we can find a stove, countertops, 12-volt lighting, and a table that turns into a bed. Also, there's a 12-gallon water tank for all your needs - just bring a water heater! 
Weight: 1,500 lbs unloaded
Length: 13 - 16 ft
Floor Plans: 3 
Sleeps: 1-3 people
Scamp Trailer Video Walk Through
Palomino PaloMini Travel Trailer
The lightweight model version of Palomino meets our standards, while still packing quite a punch with its features. The PaloMini is durable, yet sleek. The construction is vacuum bonded, and this trailer offers all a camper may need - inside and outside.
This one comes with a fridge, an air conditioner, cabinets for storage, and even a memory foam mattress. 
If you'd like to upgrade, you may add several features. However, everything in the basic package is of high quality, so upgrades depend on desire, and aren't a necessity.
Weight: 1,900 lbs
Length: 16 ft
Floor Plans: 1 below 2,000 lbs
Sleeps: 1-3 people
PaloMini Trailer Video Walk Through
Cricket Camper
Taxa Outdoors made their Cricket not only ultra-lightweight, but also beautiful and impressive. The design itself screams adventure, while consisting of pure aluminum for safety and sturdiness.
If you worry about the inside of your trailer getting stuffy, Cricket has you covered there as well. The camper features four windows with screens and shades for comfort. Also, the roof is a pop-up that can add extra headroom and airstream. 
Taxa brought a trailer with a roof-rack for storing gear, an AC, a LED porch light, exterior shower, refrigerator, USB ports, storage space and more. Your adventure will be much more comfortable now that Cricket is available.
Weight: 1,450 lbs
Length: 15 ft
Floor Plans: 2
Sleeps: 1-2 Adults & 1-2 children
Cricket Camper Video Walk Through
Jayco Hummingbird Travel Trailer
Jayco is one of the most popular trailer brands, but it's new in the lightweight area of the business. However, their Hummingbird meets all the criteria, with the 10RK version being under 2000 lbs. 
The windows are tinted with safety glass. Also, they have decorative nightshade covers for peaceful rest in your Hummingbird.
On the outside, it comes with exterior speakers, a rear camera, power awning with LED lights, and even a grill. Heading inside, we can find a cooktop, a foldable picnic table, a BTU furnace, and much more. 
 Weight: 1545 lbs
Length: 18 ft
Floor Plans: 8
Sleeps: two to four people
Jayco Hummingbird Video Walk Through
Final Thoughts
After sifting through all of this information on small travel trailers, you might find that weight is no longer a top priority. It's time to think about other factors that matter to your decision. Do you need a towable camper for your road trips? How many people do you need to accommodate? Which amenities are a must-have, and which are secondary?
Our review of ultra-lightweight camping trailers under 2000 pounds has narrowed down the search for you. Now, go on and find the perfect camper from the list!